Giant Cupcake Masterclass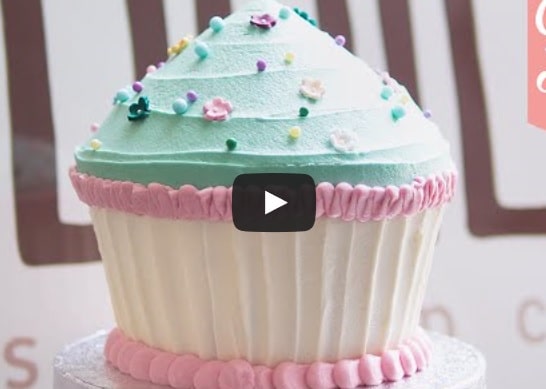 Get your notebooks out! This is going to be an in-depth masterclass on how to bake and decorate the perfect Giant Cupcake. Don't be afraid.
He may be big but he is not the boss of you! With these hints and tips you are going to be churning out delicious, pristine Giant Cupcakes LIKE A BOSS!
How To Giant Cupcake Masterclass
You will need -
a Giant Cupcake tin, greased and floured
an 8inch cake board or drum
a straight palette knife (8")
a cranked palette knife (4.5")
a cake turntable
some greaseproof paper
small piping bags
various nozzles for trims
Recipe! -
For the cake
375g self-raising flour
375g unsalted butter (soft)
375g caster sugar
¾ tsp bicarbonate of soda
6 large free-range eggs
4.5 tbsp whole milk
½ tsp vanillia extract
For the buttercream -
300g unsalted butter (soft)
675g icing sugar, sifted
4 tbsp whole milk
½ tsp vanilla extract
Plus sprinkles and food colouring to decorate!