Chocolate Cupcake Recipe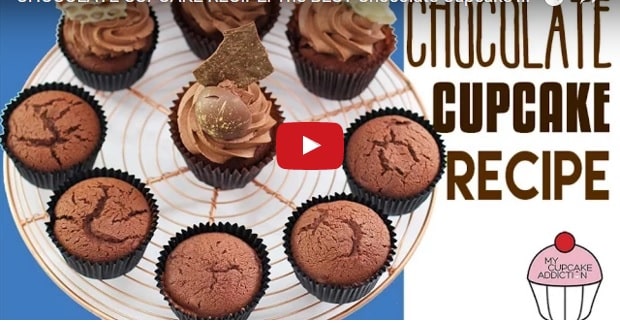 Throw all your ingredients for these amazing, moist, fluffy homebaked chocolate cupcakes together in one bowl and mix – Its that simple!
RECIPE
Yield: 24 cupcakes or 1 x 9″ round, 3″high cake
Ingredients
340g / 12oz Plain flour, sifted
315g / 11oz Caster sugar (USA – granulated)
225g / 8oz Butter, softened (eqv. 2 sticks)
225g / 8oz Water, room temperature
55g / 2oz Unsweetened cocoa
3 x 65g/2.2oz Eggs, room temperature (ex-large)
40g / 1.4oz Vegetable oil
4 tsp Baking powder
2tsp Vanilla
Instructions
1. Preheat oven to 350f / 180c / Gas Mark 4
2. Combine baking powder and flour together and stir to combine
3. Add sugar, butter, water, eggs, cocoa, oil and vanilla and beat on low speed with an electric mixer using a whisk or paddle attachment until all ingredients are just combined
4. Beat on high speed until mixture lightens in colour and becomes fluffy (approx. 1.5 – 2 minutes)
5. Line a 12 hole cupcake tray with cupcake liners and fill each liner approximately two thirds to the top using a spoon or icecream scoop
6. Place on the middle tray of your oven and bake for 14-18 minutes.
7. Check at 14 minutes, then each minute thereafter until the centre of the cupcake springs back when touched.