DIY Ferrero Rocher Cupcake Dessert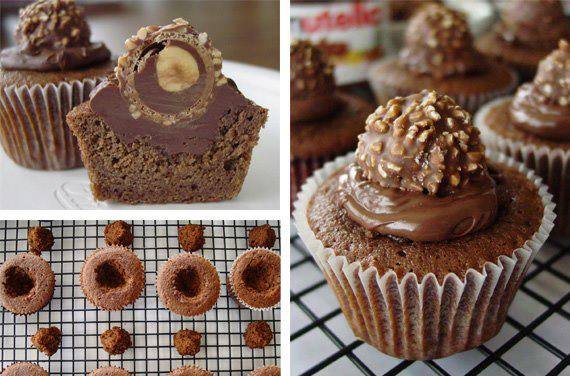 These cupcakes are perfect for every party, because they will impress your love ones. They are super decadent and rich, and are way better than a box of chocolate! I hope you guys try these out!
You will love this delicious Ferrero Rocher Cupcake dessert ! Intensely chocolatey, decadent Nutella-filled cupcakes are topped with a heavenly Nutella frosting.
How to Make Ferrero Rocher Cupcakes
Ingredients
Cupcakes:
Box of Devils Food Cake Mix (Chocolate Cake)
1 small package of chocolate pudding (instant)
1 cup Sour Cream
1 cup vegetable oil
4 eggs
1/2 cup milk
1 tsp vanilla extract
Ferrero Rochers
Nutella Frosting:
11/2 Cups butter or 3 sticks
3 cups powder sugar
11/2 teaspoons vanilla extract
1 cup Nutella
2 tablespoons heavy cream
For Decoration:
1 cup hazelnuts
Ferrero Rochers
1/4 cup nutella
Directions
For the cupcakes, add all the ingredients into the bowl and beat until well combine. Add 1/3-1/4 batter into each cupcake hole. Then add one Ferrero Rocher in the middle. Top it off with more batter covering the whole candy. Bake in the oven at 350 degrees for 16-17 minutes.
For the frosting, beat the three sticks of butter till smooth. Then beat in the 3 cups of powdered sugar until well combined. After beat in the vanilla extract, and then the nutella. The last thing is to beat in the heavy cream. Refrigerate for at least 30 minutes.
To assemble, crush the hazelnuts using a rolling pin. Pipe a circle of frosting on the border of the cupcake. Dip this part in the hazelnuts around the whole ring. Finish off the swirl in the middle of the cupcake. Drizzle Nutella and then top with another Ferrero Rocher.