Chocolate Cupcakes with Vanilla Frosting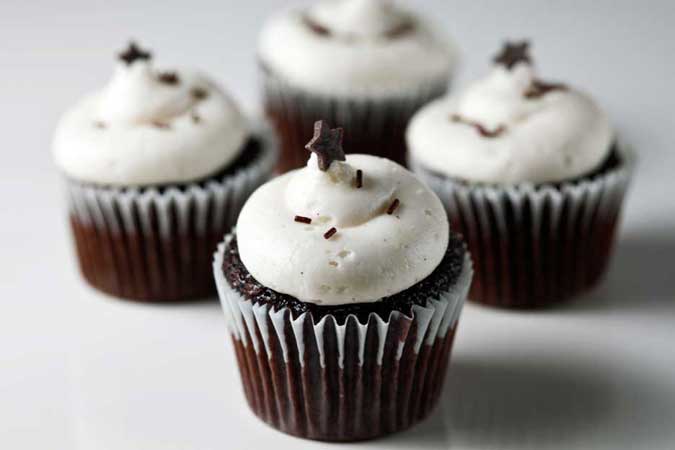 A rich, tender homemade chocolate cupcake topped with my favorite vanilla frosting.
You'll find every excuse to make this classic cupcake over and over again!
Chocolate Cupcakes with Vanilla Frosting Recipe
https://youtu.be/J8VWHKa6ELc
Ingredients:
CUPCAKES
1/2 cup (42g) unsweetened natural cocoa powder1
3/4 cup (95g) all-purpose flour (spoon & leveled)
1/2 teaspoon baking soda
3/4 teaspoon baking powder
1/4 teaspoon salt
2 large eggs, at room temperature2
1/2 cup (100g) granulated sugar
1/2 cup (100g) packed light brown sugar
1/3 cup (80ml) vegetable or canola oil (melted coconut oil works too)
2 teaspoons vanilla extract
1/2 cup (120ml) buttermilk, room temperature3
VANILLA FROSTING
1 cup (230g) unsalted butter, softened to room temperature
4 – 5 cups (480-600g) confectioners' sugar
1/4 cup (60ml) heavy cream4
2 teaspoons vanilla extract
salt, to taste
sprinkles5
Directions:
Preheat the oven to 350°F (177°C). Line a 12-cup muffin pan with cupcake liners. Line a second pan with 2 liners – this recipe makes about 14 cupcakes. Set aside.
Make the cupcakes: Whisk the cocoa powder, flour, baking soda, baking powder, and salt together in a large bowl until thoroughly combined. Set aside. In a medium bowl, whisk the eggs, granulated sugar, brown sugar, oil, and vanilla together until completely smooth. Pour half of the wet ingredients into the dry ingredients. Then half of the buttermilk. Gently whisk – about 5 stirs. Repeat with the remaining wet ingredients and buttermilk. Stir until *just* combined; do not overmix. The batter will be a little thin.
Pour/spoon the batter into the liners – fill only halfway to avoid spilling over the sides. Bake in batches for 18-21 minutes, or until a toothpick inserted in the center comes out clean. Allow to cool completely before frosting.
Make the frosting: With a handheld or stand mixer fitted with a paddle attachment, beat the butter on medium speed until creamy – about 2 minutes. Add 4 and 1/2 cups confectioners' sugar, cream, and vanilla extract with the mixer running on low. Increase to high speed and beat for 3 full minutes. Add up to 1/2 cup more confectioners' sugar if frosting is too thin or another Tablespoon of cream if frosting is too thick. Add a pinch of salt if frosting is too sweet.
Frost cooled cupcakes however you'd like. I used Wilton 1M piping tip. There may be leftover frosting depending how much you use on each cupcake. Decorate with sprinkles, if desired. Leftover prepared cupcakes can be stored covered tightly at room temperature for up to 3 days or in the refrigerator up to 5 days.
Make ahead tip: Prepare cupcakes 1 day in advance. Keep cupcakes covered tightly at room temperature and frost the day of serving. Unfrosted cupcakes can be frozen up to 2 months. Thaw overnight in the refrigerator and bring to room temperature before frosting and serving.
Additional Notes:
Do not use dutch processed cocoa. Dutch process is treated with an alkali to neutralize its acids and therefore will not react with the alkaline baking soda in the batter. Natural unsweetened, which is an acidic ingredient, is paired with the brown sugar (also acidic) in this specific cupcake recipe to react with baking soda and maintain the proper balance of acid and alkaline as the cupcakes bake.
Room temperature eggs are required for the cupcakes. To bring eggs to room temperature quickly, put them in a glass of warm water for 5-10 minutes.
Buttermilk is required for this recipe. If you do not have buttermilk, make your own by mixing 1 teaspoon white vinegar or lemon juice with 1/2 cup milk. Stir and let sit for 5 minutes.
For the frosting, heavy cream or half-and-half will give your frosting the creamiest texture. You can use milk instead, keeping in mind that the frosting won't be as creamy.
I bought these rainbow sprinkles from Walmart (Wilton brand), but also love to buy them in bulk here.