Surprise chocolate cake recipe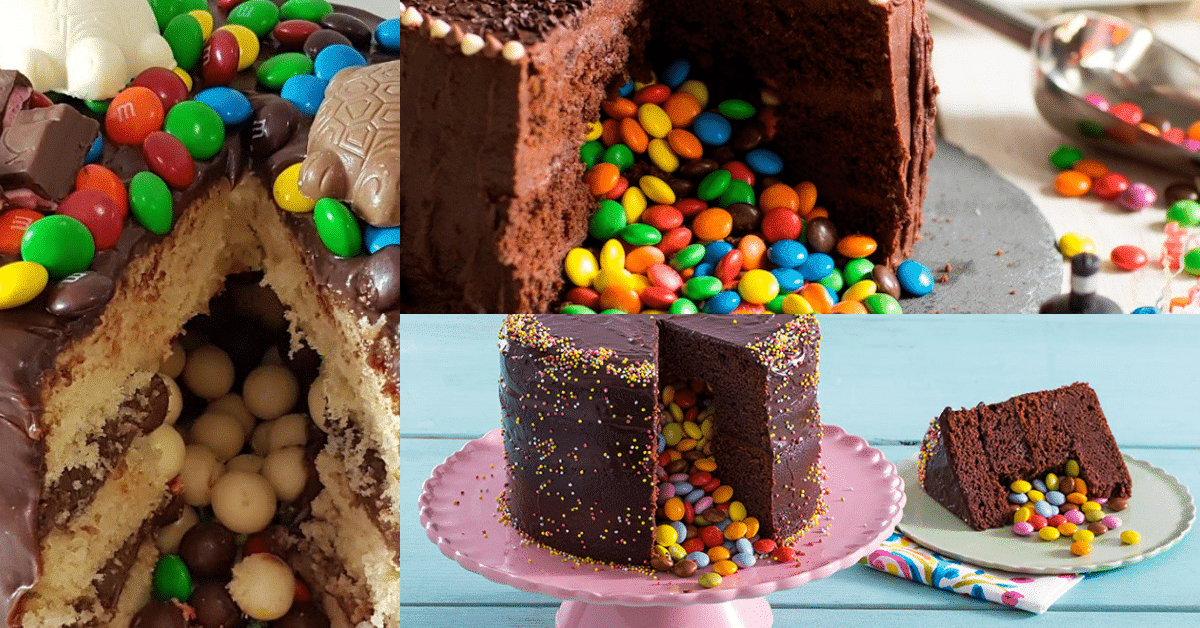 The chocolate cake remains a favorite, children and adults cannot resist a delicious chocolate cake.
Our suggestion today is a chocolate cake, but with a surprise inside. When you cut the cake you find sweets inside.
The perfect cake for a children's party. Check out the recipe.
Surprise chocolate cake
Ingredients:
350 g stork spread
350 g caster sugar
6 large eggs
300 g self-raising flour
1 tsp baking powder
50 g cocoa powder, plus extra for dusting
100 g dark chocolate, broken into pieces
284 ml Elmlea light double cream
296 g Cadbury Mini Eggs Family bag
Surprise chocolate cake
Heat the oven to 180C, fan 160C, gas 4.
Grease 3 x 20cm round sandwich tins and base-line with baking paper.
Place the Stork spread, sugar, eggs, flour, baking powder and cocoa powder in a large mixing bowl. Beat with an electric mixer for 2-3 minutes until smooth and creamy.
Divide the mixture evenly between the tins and level the surfaces. Bake for 25-30 minutes until risen and springy to the touch. Cool in the tins for 5 minutes then turn out onto a wire rack and cool completely.
For the frosting, melt the chocolate in a heatproof bowl set over a pan of simmering water. Cool for 5 minutes. Whip the Elmlea in a bowl until holding soft peaks then fold in the melted chocolate. Chill for 15 minutes.
Cut out a 12cm circle from the centre of one of the cakes. Place a whole cake on a serving plate. Spread some of the chocolate frosting around this cake in a 3cm border. Top with the cut-out cake and fill the centre with ¾ of the mini eggs.
Spread more frosting around the rim of the middle cake then top with the other whole cake.
Spread a thin layer of frosting around the side of the cake to seal in the crumbs and chill for 15 minutes. Spread the remaining frosting around the side and top of the cake, smoothing with a palette knife. Decorate with the remaining mini eggs and dust with cocoa powder.
Source: recipes.sainsburys.co.uk/