Homemade Fondant (without marshmallows)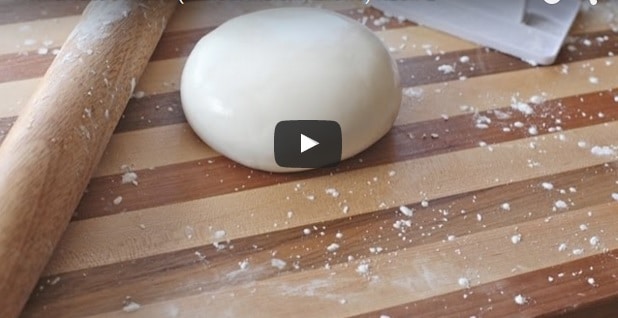 Never buy store bought fondant, EVER AGAIN! This fondant is soft, supple, and super delicious! Don't waste your money on store bought fondant when you can make your own and know EXACTLY what goes in it!
This homemade fondant is not only easy to make but equally DELICIOUS!! It tastes kind of like a cross between cotton candy, marshmallows, and candied unicorns.
INGREDIENTS:
1/2 cup whole milk
3 Tbsp of unflavored gelatin(or 4 envelops of Knox's Gelatin)
1 cup of light corn syrup
3 Tbsp of SALTED butter
2 1/2 Tbsp of glycerin
2 tsp of vanilla extract(you may use clear vanilla)
1 tsp of butter flavoring
1 tsp of lemon juice powder(optional)
3 1/2 to 4 pounds of powdered sugar
2 pinches of salt
Additional items needed:
Vegetable shortening
Extra glycerin(for kneading in, if necessary)
some corn starch
A stand mixer
INSTRUCTIONS:
Place your milk in a 2 cup measuring cup. Sprinkle in your gelatin and allow it to firm up or bloom(should take 3-4 minutes).
Place mixture in the microwave and heat on HIGH for 1 minute. Stir. If your gelatin does not become liquid, then continue to microwave using 15 second intervals until melted. Make sure to stir between heating cycles.
Put corn syrup, butter, glycerin, vanilla extract, butter flavoring, and salt into a large measuring cup. Add this into your milk and gelatin mixture. Stir.
Microwave on high for 2 minutes(or until butter has melted). Stir. Set this aside and allow it to cool to LUKE WARM.
Place 2 pounds of powdered sugar into your stand mixer. Add in your lemon juice powder if using.
Strain LUKE WARM mixture into your powdered sugar. Mix it by hand with a spatula until blended.
Fit your mixer with the dough hook and turn the mixer on to "stir." Slowly start to incorporate the rest of the powdered sugar, adding a cup at a time.
Your fondant is ready when it starts to pull away from the sides and starts to clump around the dough hook.
On a clean surface, add some vegetable shortening and then corn starch onto the counter to prevent sticking.
With some crisco on your hands, dump the fondant onto the counter and begin to work it into a smooth round ball. It will be slightly soft and you may use additional powdered sugar(or corn starch)AS NEEDED to form your ball.
Divide the dough in half and wrap them up tightly in some crisco coated saran wrap. Do not use a spray because that will form a crust. Repeat with a second wrapping, then repeat the same process with the other half of fondant.
Place in an air tight container and allow it to sit overnight on the counter.
The next day, knead only the amount required to cover your cake.
On a non stick surface, knead out some fondant. Interchange between a little glycerin and some shortening, just until soft and supple.
NOTES:
If you are positive that you are not going to color your fondant, then you can add 3 Tbsp of glycerin instead of 2 1/2 to start with. I like to control how much goes into my fondant and if you put too much then it will be too soft, not to mention that food coloring also contains glycerin. If you are unfamiliar with the texture of fondant, go out and purchase some store bought fondant to note the texture.
Do not use butter flavoring shortening. It does not taste good in this.
And no, you cannot taste the crisco in this recipe.
This recipe yields about 4 1/2 pounds of fondant.
Work your fondant in batches until nice and smooth.
If at anytime it appears too soft, just knead in more powdered sugar. If it appears too stiff, add in more glycerin.
The sugar and cooking process preserves the dairy ingredients, so there is no worry of spoilage.
Good tasting brands of commercial fondant: Fondx and Fondarific. I hear Satin Ice is good too.
Adapted from Michele Foster's Fondant recipe.