Crusting White Chocolate Buttercream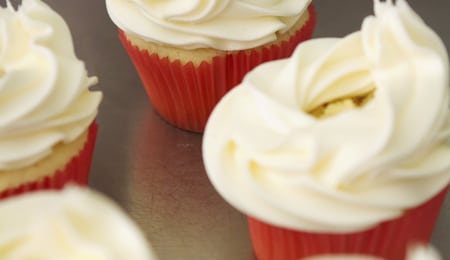 White chocolate and cream cheese make this crusting buttercream indulgently delicious. Pair it with lemon cake for a bright flavor combination, or go with a classic match up with carrot cake.
I found this in the Cake Mix Doctor cookbook and altered it to be a nice crusting buttercream to be used with piping. One recipe yielded enough to ice and decorate one 9×13 sheet cake.
Crusting White Chocolate Buttercream
Ingredients
1 1/4 cup Crisco
4 oz Cream Cheese
1/4 cup Unsalted Butter
8 oz White baking Chocolate (not chips)
3 1/2 cups Powdered Sugar
2 Tbsp Meringue Powder
2 tsp Vanilla
Instructions
Cream Crisco, Cream Cheese, and Butter together in the mixer.
Over a double boiler, melt the white chocolate, and set aside to cool.
With the mixer on low, slowly pour the white chocolate into the creamed mixture. Add Vanilla.
Incorporate sifted powdered sugar and meringue powder to form a smooth buttercream.
As written, the icing is a medium consistency. I removed 1/2 cup to make roses, then thinned the rest with a splash of water for easy icing. The icing crusts nicely in the fridge, and is smooth for piping and decorating.
The white chocolate lends an understated decedent taste, while the addition of the cream cheese cuts the sweetness. The color is a light golden-cream, but takes gel colors easily.
Read more at http://www.cakecentral.com/recipe/5003/crusting-white-chocolate-buttercream#EPPudCCtgsj5scDM.99