Whipped Chocolate Buttercream Frosting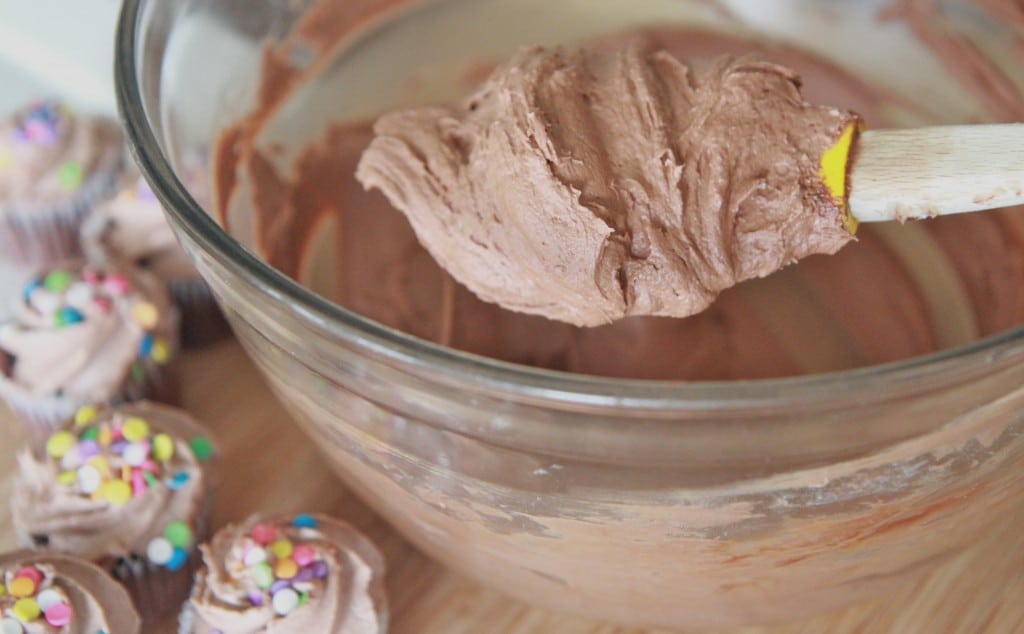 Chocolate buttercream frosting is one of my FAVORITE kinds of frosting, especially when its whipped! Although I'm usually not crazy over frostings like some people, I'm a sucker for that buttery, creamy, fluffy, chocolatey buttercream!
If you're looking for an easy, chocolatey and downright delicious old fashioned chocolate buttercream frosting them let me introduce you to this recipe right HURRR! It's my go-to recipe for crowd-pleasing chocolate buttercream frosting and it's…well…amazing!!
Ingredients
1 cup butter (2 sticks), softened, room temperature
½ tablespoon heavy whipping cream
1 teaspoon real vanilla extract
½ cup semi-sweet chocolate chips, melted and cooled
½ cup unsweetened cocoa powder, sifted
2½ cups powdered sugar, sifted (spoon into measuring cup to measure)
pinch of salt
Instructions
In a large bowl cream butter until fluffy.
Add in heavy cream and mix until light and fluffy.
Mix in vanilla extract.
Mix in melted chocolate chips.
Mix in cocoa powder and powdered sugar until frosting is light, fluffy and whipped.
Stir in salt.
Frost cake or cupcakes.
Store leftover frosting in a covered container in the refrigerator. Let come to room temperature before using.
Tips to making PERFECT Chocolate Buttercream Frosting (or any buttercream frosting)
1.) Let butter soften at room temperature. Do not microwave or you may risk melting the butter. Melted butter will make for a super thin frosting and then you'll have to overcompensate with more powder sugar, etc. Making the frosting waaay to sweet and weird tasting. To speed up the butter softening process you can cut into smaller pieces. I just take a stick out of the fridge in the morning and let it sit until I'm ready to bake. By then it's super soft, but still hold it's shape which is what you want. If it's a last minute frosting and I don't have 30 minutes to an hour to wait for the butter to soften, I'll cheat and throw the butter in the microwave for just a few seconds while watching it like a hawk to make sure none of it is melted and then let it sit for about 15 minutes to completely soften.
2.) Cream that butter well. The first step and important one is making sure you cream that softened butter really well!! This prepares it for all those yummy ingredients!
3.) Sift any dry ingredients. In this recipe, the only dry ingredients we use are powdered sugar and unsweetened cocoa powder. Sifting gets rid of any lumps and makes it all powdery light. Perfect for frosting!!
4.) Thin or Thicken carefully. If you feel the frosting is a bit too thick for your liking, thin it out gradually with tiny DROPS of milk or heavy cream (yes a little liquid goes A LONG way in frostings). If it's too thin, let it sit for a bit FIRST since frostings become firmer as they sit. If it's still too thin, add powdered sugar a little at a time. I'm not a fan of this really since it changes the way the frosting will taste. Melting the butter, even a tiny bit, usually causes thinner frostings.