Skittles Cupcakes with Rainbow Icing (RECIPE + VIDEO TUTORIAL)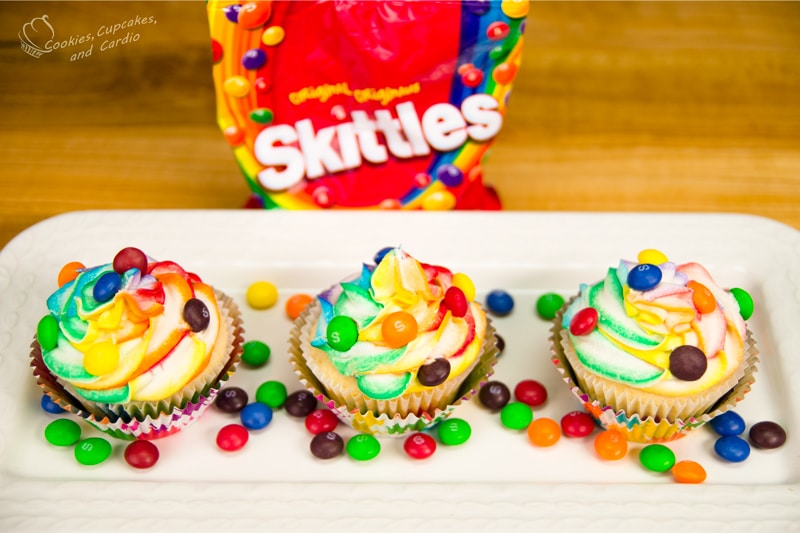 The rainbow icing is a beautiful way to decorate any flavour of cupcake. "I thought the bright, vibrancy of the buttercream would pair perfectly with Skittles, because, as I mentioned already, the Skittles slogan isTaste the Rainbow." Striping the bag is the easiest way to achieve this effect.
It is simple, and produces a beautiful, rainbow topping. Adding a couple of Skittles to the top for decoration, completes the Skittles theme of the cupcakes.
Skittles Cupcakes with Rainbow Icing Recipe
This recipe makes approximately 15 cupcakes.
Ingredients:
◾1 1/2 cups all purpose flour (180 grams)
◾1 cup granulated sugar (200 grams)
◾2 teaspoons baking powder (10 grams)
◾1/2 teaspoon salt (5 grams)
◾1/2 cup butter (120 grams)
◾2 egg
◾1/2 cup milk (120 milliliters)
◾1/2 teaspoon vanilla extract (3 milliliters)
◾1/2 cup Skittles (100 grams)
◾Vanilla Buttercream
◾Red, orange, yellow, green, blue, purple gel paste
◾Additional Skittles for garnish
Procedure:
1.Preheat oven to 350F. Line cupcake pan with cupcake liners.
2.In the bowl of a stand mixer fitted with a paddle attachment, add flour, sugar, baking powder and salt and mix until combined.
3.Cut butter into 1″ cubes and add one at a time to the mixing bowl, while the mixer is on medium speed. Mix until the crumbs resemble fine sand.
4.With the mixer on low, add eggs one at a time and slowly add the milk and vanilla. Mix until combined.
5.Add the Skittles, and stir briefly.
6.Bake in the preheated for 18-22 minutes, or until a toothpick inserted to the centre of the cupcake comes out clean. Allow to cool completely before icing.
7.To make the rainbow icing, use a paintbrush to stripe the inside of a piping bag fitted with a 1M tip. Apply a stripe of each colour of gel paste to the inside of the bag.
8.Fill bag with prepared buttercream.
9.Pipe a standard swirl to the top of the cupcake, and the rainbow colours will come out beautifully!
10.Add additional Skittles to the top of the cupcake as a garnish if desired.
11.You can serve these immediately, or you can store them in an airtight container in the fridge for 2-3 days.