Cappuccino-Chocolate Cupcakes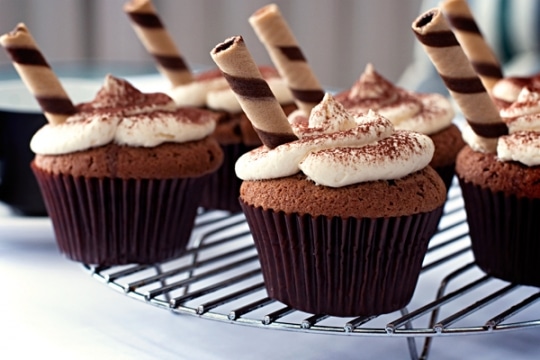 Finely chopping the chocolate results in small shards that won't sink in the batter.
Use a spring-loaded ice cream scoop to transfer batter to muffin cups with ease.
Cappucino Cupcakes
Ingrédients:
3 tablespoons espresso powder
5 ounces semisweet chocolate, finely chopped (1 cup), plus more for grating
1 recipe Classic Yellow Cake Batter
1 1/3 cups sugar
5 large egg whites
1/2 teaspoon cream of tartar
Pocedure:
1. Preheat oven to 350 degrees. Line 24 standard muffin cups with paper liners. In a small bowl, combine espresso powder and 2 teaspoons hot water. Stir espresso and chocolate into batter; divide among muffin cups. Bake until a toothpick inserted in center of a cupcake comes out with a few moist crumbs attached, about 20 minutes, rotating halfway through. Let cool in pans on wire racks 5 minutes, then transfer cupcakes to racks and let cool completely.
2. Set a large bowl over (not in) a pot of barely simmering water. Add sugar, egg whites, and cream of tartar and whisk constantly until mixture is warm and frothy and sugar is dissolved, about 4 minutes. Remove bowl from heat and, using an electric mixer, beat on medium until soft peaks form, about 4 minutes. Increase speed to high and beat until whites form medium-stiff, glossy peaks, about 3 minutes.
3. Transfer frosting to a large zip-top bag and snip a 1/4-inch hole in one corner. Frost cupcakes, then finely grate some chocolate on top.
Prep: 45 mins
Total Time: 1 hour 5 mins
Yield: Makes 24
Chill Out
Be sure cupcakes are completely cool before decorating, to avoid melting the frosting.
Icing on the (Cup)Cake
You don't need fancy supplies to frost these treats — a zip-top bag makes a fine stand-in for a pastry bag. Place it in a tall glass so it's easier to fill.