The long-awaited Moist Triple Chocolate Fudge Cake recipe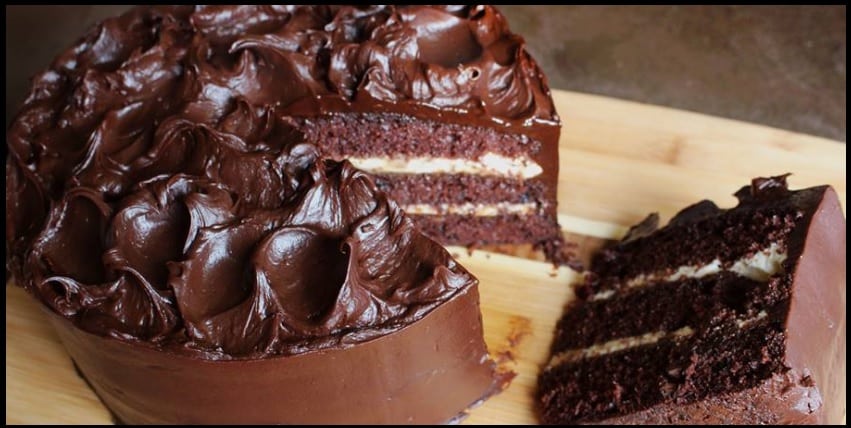 The long-awaited Moist Triple Chocolate Fudge Cake recipe. It's the perfect day to give this a go.
How to Make a Triple Chocolate Fudge Cake
https://youtu.be/TVszmikUQ30
You will need:
Cake:
180g self-raising flour
3 tbsp cocoa powder
1 tsp bicarbonate of soda
100g caster sugar
50g soft light brown sugar
2 eggs
150ml sunflower/vegetable oil
150ml full-fat milk
1 tsp vanilla paste (or seeds from 1 vanilla pod)
Frosting:
400g dark chocolate
250ml double cream
50g chocolate spread (from a jar)
Filling:
300ml double cream
1 tbp white chocolate hot chocolate powder (if you don't have this, replace it with a tsp of vanilla paste, or shavings of white chocolate)
1 tsp icing sugar
Recipe:
1. Pre-heat your oven to 180C or 160Fan, and grease & line three 8 inch baking tins.
2. For the cake, the recipe can't be easier. Throw all the ingredients into a bowl and mix until well combined.
3. Pour the cake mixture evenly between the three baking tins and bake for 20-25 minutes, or until the cake is soft, and bounces back when you push your finger gently into it.
4. To make the frosting, break the chocolate into small pieces and place into a microwaveable bowl. Add the double cream and the chocolate spread and microwave in 30 second bursts. After every 30 seconds, give the mixture a stir. Be careful not too overheat otherwise the chocolate will burn and split. Once the chocolate has melted into the cream mixture, mix well then place into the fridge for about half an hour to 45 minutes to set. It should be relatively thick, but still soft enough to lift with a palette knife with ease.
5. To make the filling, add the double cream, white chocolate powder and the icing sugar into a bowl and whisk until you get soft peaks. Don't be tempted to over whisk. Once the cake has been baked and cooled, place one layer onto your serving dish. Add half of the cream mixture and spread evenly. Place another cake layer, and then the rest of the cream on top. Place the final cake layer on top, then bring your chocolate frosting over. Using a palette knife, frost the top of the cake, followed by the sides, ensuring it is all covered. Be gentle, otherwise you'll get cake crumbs all over your frosting. To get the smooth sides, wet your palette knife with hot water, then run it smoothly across the sides. To get the wavy frosting on top, place some frosting on the back of a spoon and gently place on top of the cake, sliding the spoon away upwards.
The cake lasts up to a week in the fridge, but i somehow doubt it would last that long in anyone's house