How To Make Super Thick Frosting Layers On A Naked Cake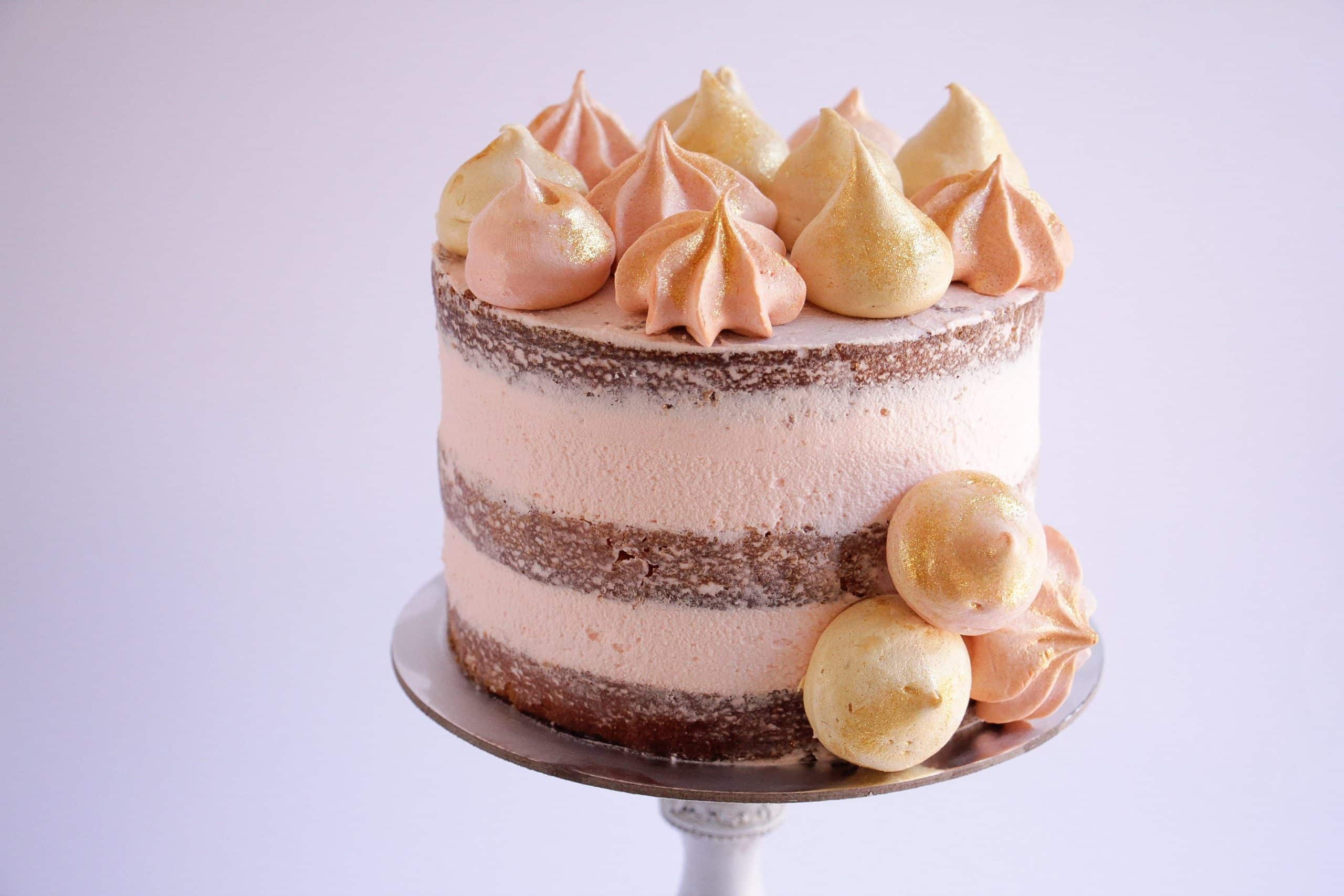 At first glance, it seems like this "Naked Cake" from Rosie's Dessert Spot doesn't have much frosting at all. Then you cut a slice and see: layer upon layer of moist cake, sandwiched between thick layers of sweet buttercream.
When it's topped with homemade meringue, it becomes a dessert that's lovely, special and delicious. Watch how it's put together!
You can, of course, use any recipes you like to decorate a cake this way. If you'd like to make the exact ones Rosie uses, here they are:
You'll Need
Meringue
– 2 egg whites
– 1 pinch salt
– 4 tablespoons superfine (caster) sugar
– 1 teaspoon vanilla extract
– Touch of Americolour Gel Food Colour in Soft Pink (optional)
– Gold dust, to decorate
Buttercream
– 1 cup + 1 scant tablespoon (250 grams) butter
– 3 cups + 2 tablespoons (500 grams) confectioners' sugar
– 1 teaspoon vanilla extract
– 2 to 3 tablespoons of milk
– 1 drop of Soft Pink Gel Food Colour by Americolour
Simple Syrup
– 3/4 cup water
– 3/4 cup sugar
– Dash vanilla extract
How To
Meringue
Preheat your oven to 160 degrees Fahrenheit (70 degrees Celsius).
Mix the egg whites, salt, superfine sugar, and vanilla extract together until well-blended. If you want pink meringues, add the food coloring and blend well.
Pipe the meringue into dollops on a baking sheet.
Bake for 2 1/2 to 3 hours. Then turn off your oven and allow the meringues to cool completely in the oven. Do not open the oven door until they have cooled completely. It could take up to an additional 3 hours.
Buttercream
Mix the ingredients together until well blended. Add additional milk as needed until you reach your desired consistency.
Simple Syrup
In a saucepan over medium heat, dissolve the sugar and water together until the sugar has dissolved completely.
Allow to simmer for 3 to 5 minutes.
Allow to cool slightly and mix in the vanilla.
So what do you think? Have you ever had or made a "naked cake" before?