How to Make 2-Ingredient White Chocolate Buttercream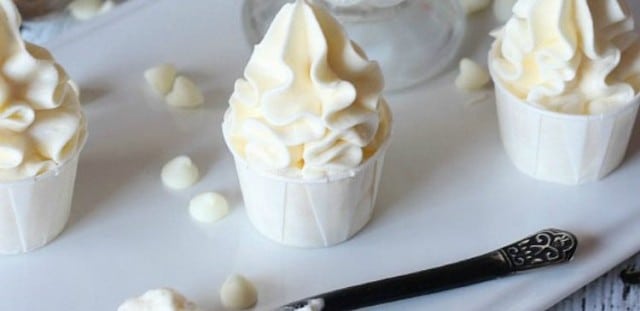 This Easy to make 2-ingredient buttercream frosting recipe is incredibly rich and fluffy to add any sweet topper for cakes, cupcakes, cookies, and more.
White chocolate is a favorite of most of us, and this frosting from Cookies and Cups is positively easier and tastier, and it saves you time when you host a big party by keeping it in fridge (don't forget to whip again from fridge).
Ingredients
1 lbs butter
2 cups of white chocolate chips
What You Do
Combine both ingredients in a medium saucepan. Melt them over low heat, stirring continually (Note: butter and white chocolate will separate and that's ok!)
Once completely melted, remove from the heat and let sit for 15 minutes. Place the saucepan in the refrigerate until the mixture solidifies (about 3 hours or overnight).
When you're ready to make your frosting, take out of the fridge and let sit for 30 minutes.
Place mixture into the bowl of a stand mixer and beat until fluffy and light (about 2 to 3 minutes).
Use frosting as you'd like and enjoy!