Christmas Candy Cake Roll (Recipe + Video)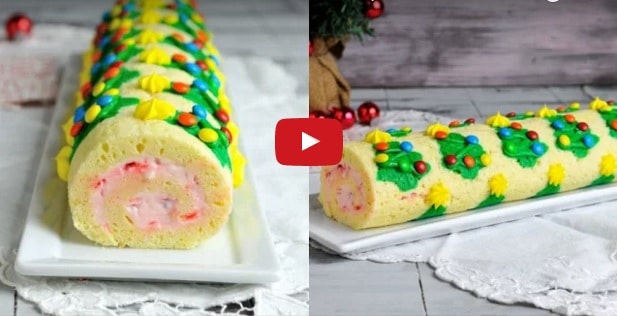 This video show you how to create tree pattern, how to make the cake batter and how to decorate this pretty cake roll. Enjoy.
Christmas Candy Cake Rool Tutorial
CAKE ROLL RECIPE
Pattern Batter
2/3 cup all purpose flour
1/2 cup powdered sugar
3tbl room temperature butter
3 egg whites at room temperature
1/4tsp vanilla extract
1 to 2 tbl water to thin the batter down, as needed, or use freshly squeezed lemon juice instead
Cream butter, add powdered sugar, beat until creamy, add egg whites and beat until incorporated, add vanilla extract and on low speed add flour.
Color batter with leaf green food coloring, I used Americolor brand. Using tree pattern pipe tree onto the parchment paper. Freeze for 20-30 minutes.
Cake Batter
5tbl butter, melted, cooled
6eggs, separated, at room temperature
1cup granulated sugar
1cup all purpose flour
pinch of salt
2tsp vanilla extract
In a clean bowl beat egg whites with pinch of salt until soft peaks are formed, add about 1/2 of the granulated sugar, beat until stiff and glossy peaks are formed.
Beat egg yolks with remaining sugar until pale in color and doubled in volume. Add vanilla extract and gradually add melted and cooled butter. Beat well.
Into the egg mixture gradually, alternating fold in sifted flour and meringue. Once you are nearly done, add blue food coloring, fold the color in well but don't stir the batter.
Spray the jelly roll pan with non stick spray, lay the snowflake pattern on top and spread the blue cake batter on top.
Bake at 350F for 13-15 minutes, until edges are lightly golden brown.
Dust the wax paper sheet with powdered sugar, invert baked and still hot cake onto the wax paper, peel of the top layer of parchment paper, place another layer of wax paper on the top. Put a cutting board or another baking sheet on the top and flip the cake, peel the wax paper. Starting at the side with no tree pattern, roll the cake. Wrap into the kitchen towel, let cool completely before filling.

Cream Cheese Filling
1 1/2 block cream cheese(about 226grams), room temperature
1/4 cup room temperature unsalted butter
1 1/4 cup powdered sugar, use little more as desired
2-3 tbl cream or heavy cream
2tsp vanilla extract
1/2cup crushed peppermint candies
Peppermint oil for more flavor, add only few drops
Beat cream cheese and butter until smooth and creamy, gradually add powdered sugar alternating with cream, beat well. add vanilla extract. Reserve about 1 cup of frosting. Into the remaining frosting stir in crushed candies and few drops of peppermint flavor.
Divided reserved filling and color one portion with green and one with yellow.
Fill The Cake
Carefully unroll the cake peel the wax paper, fill with the filling and roll up again. Cover with plastic wrap, chill for 4 hours or overnight before serving.
Decorate the cake
Fit the piping bag with an open star tip and with a small round tip.
Fill piping bag fitted with a star tip with green frosting and the one with round tip with green frosting.
Decorate the cake, using star tip to make the stars on the top of the tree and green icing to make the garland. Finish with mini m&m candies for Christmas lights.
Refrigerate up to 3-4 days.