Vertical Layer Rose Cake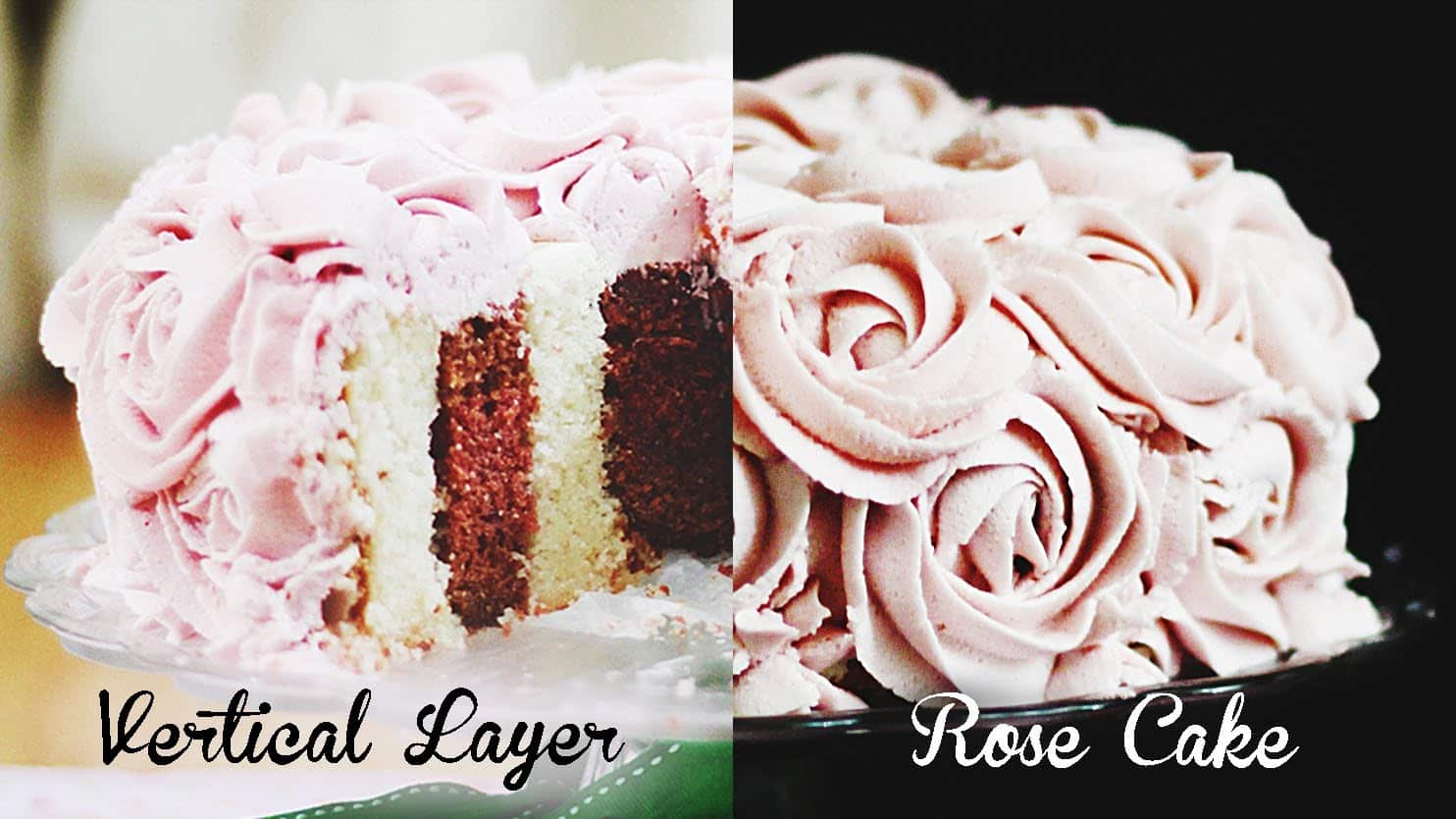 SO excited to share with you how easy it is to make the rose cake.« In four minutes I frost an entire three layer Rose Cake!
Seriously, once you see you are going to run right out, buy a 1M tip, and make one.
VERTICAL Layer Rose Cake ("Surprise Inside" Tutorial)
White Cake
adapted from i am baker.
makes two 8-in cakes
3/4 cup unsalted butter, room temp.
1 3/4 cup granulated sugar
1 tsp. salt
6 large egg whites, room temp.
2 1/4 cups cake flour
4 tsp. baking powder
1 cup milk, room temp.
1 tsp. vanilla extract
1/2 tsp. almond extract*
*I found 2 tsp. of almond extract (from original recipe) too overpowering. If I made it again, I would completely omit almond extract because I'm just not a fan.
Methods:
1. Cream butter until smooth. Add in granulated sugar and salt, beat until fluffy (5 mins).
2. Slowly add in egg whites until incorporated.
3. Sift together cake flour & baking powder. Mix together milk and extracts.
4. Alternate adding in dry mixture and wet mixture into the butter mixture. If you need a visual demonstration, I previously created a video using the method here.
5. Pour batter evenly between two prepared cake pans. Preheat oven to 350F and bake for 27-30 minutes. Bake until toothpick inserted in the center comes out almost clean.
6. Allow cake to cool to room temperature.
Red-Chocolate** Cake
The recipe I tried was unsuccessful and turned out very dry. Try out this one adapted from Magnolia's bakery.
**It was supposed to be red-velvet cake, but I was too stingy about food coloring and it turned out red-chocolate colored.
The Perfect Crusting Buttercream
recipe from i am baker
8 cups powdered sugar, sifted
1 cup shortening (1/2 cup can be substituted with softened butter)
2 tsp. vanilla extract
1/2 cup-3/4 cup milk
In a stand mixer with a paddle attachment, cream shortening and vanilla for 2-4 minutes. Add in powdered sugar, one cup at a time. Alternate adding in milk if necessary, to create a creamy consistency. For a stiffer consistency, use less milk.