Sprinkle Gingerbread House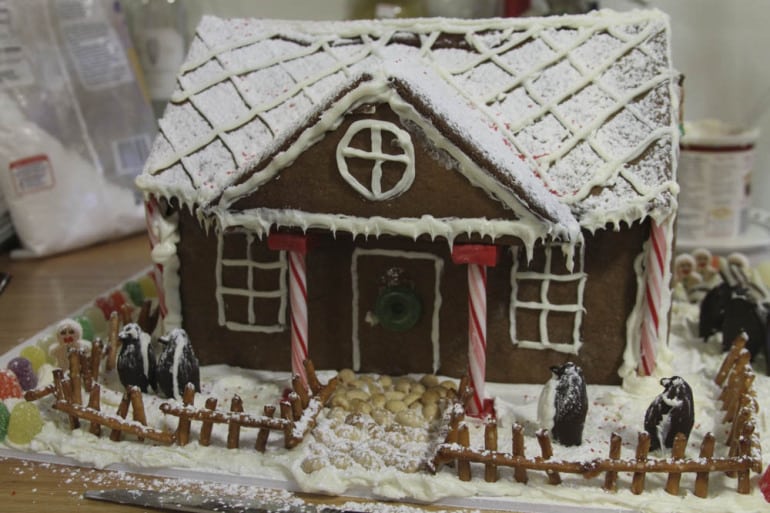 Sprinkles make everything more fun, even your holiday gingerbread house. For ease, start with a pre-assembled house; all the icing, bags and tips you'll need are included with the kit.
Adding rainbow nonpareils turns this iconic holiday centerpiece into a kaleidoscope of color.
How to Make a Sprinkle Gingerbread House
INGREDIENTS
– Pre-assembled Petite Gingerbread House Kit
– Piping Gel
– Rainbow Nonpareils
TOOLS
– 9 in. Angled Spatula
Instructions:
Step 1- Attach sprinkles to roof.
With spatula, spread a thin coat of piping gel on roof panel; sprinkle rainbow nonpareils and press to adhere. Repeat on second roof panel.
Step 2 – Attach sprinkles to house.
Working on one section of house at a time, spread piping gel on front, back and sides of house, avoiding front door area; sprinkle nonpareils and press to adhere.
Step 3 – Decorate roof. Fill disposable decorating bag with tip and icing. Divide each roof panel into fourths; pipe 5 rows of scallops, about ½ in. deep. Repeat on second roof panel. Pipe zigzags on roof peak.
Step 4 – Decorate house front.
Outline and fill in arched front door, about 1 in. wide x 1¼ in. tall; smooth with spatula. Outline door; pipe dot for door knob. Outline 1 in. square windows above and on either side of door; add lines for window panes.
Step 5 – Decorate windows on sides of house.
Outline a 2 ¾ in. wide x 1 in. tall window on both sides of house; add lines for window panes.
Step 6 – Add house details. Pipe zigzags on all corners of the house and the house eaves. Pipe icicles along roof edges.