Vegan Chocolate Mousse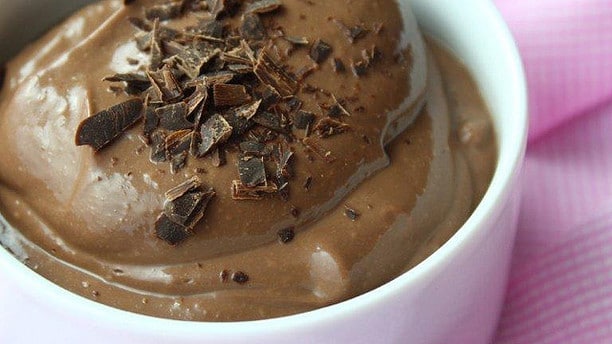 Dairy Free, Sugar Free, Vegan Chocolate Mousse.If you thought twice about clicking into this recipe due to the lack of dairy and sugar.
You'll be so glad you had a last minute change of heart because this mousse, is delicious. Coconut Cream – good. Cocoa Powder – Goood. Dates – Goooood. It's a win/win.
Dairy Free, Sugar Free, Vegan Chocolate Mousse
https://youtu.be/Wc9QnB-8wyQ
Here's what you'll need to create your own:
Makes 2 Cups (approx. 2-4 servings)
1 Can Coconut Cream
5 Tbsp Cocoa Powder
1 Cup Dried Dates, Diced
1 Tspn Vanilla
Procedure:
First things first, your can of coconut cream needs to be chilled overnight. This helps it thicken and separate and means you'll be mixing this concoction with a thickened cream, rather than beating a runny brown mess together!
When you're ready to start, you'll want to soak your dates (unless you have a super fabulous food processor) in some boiling water until they are soft to the touch so they blend more easily
Then open your can of coconut cream and separate the hardened cream from the top (this is what is pictured above). The remainder will be a juicy, coconut water that is left over. Save this
When it comes to mixing, you can use a processor or hand blender
Start with all your thickened cream and a tbsp of dates, blend
Add some more dates
If the mixture is not 'blendable', add some of your coconut water as and when needed
Keep adding your dates
Lastly the cocoa and vanilla
Mix until thick and your dates are barely noticeable
Pour into ramekins and chill for at least a couple hours before serving
You can't taste the dates and the coconut is not as noticeable as you would think.