Oreo Ice Cream Cake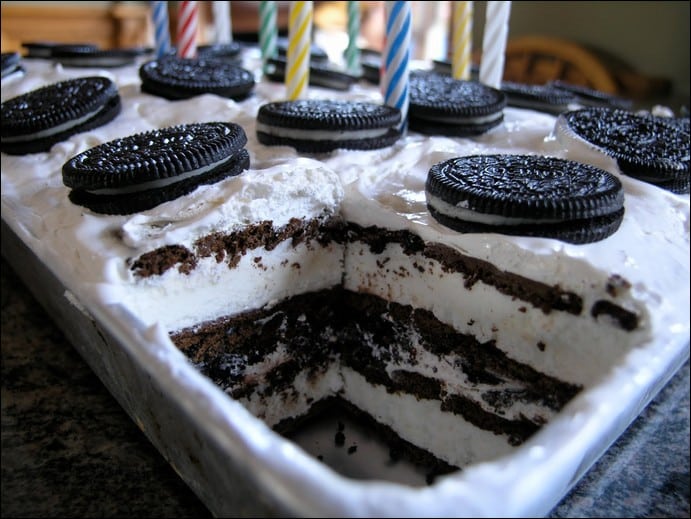 This Oreo Ice Cream cake is so yummy – you won't believe how rich and moist the chocolate cake is! Hope you guys enjoy this recipe!
How to Make Oreo Ice Cream Cake
Ingredients:
1 box brownie mix
8 oz cream cheese, softened
1/2 cup sugar
1/8 cup milk
1 tsp vanilla
8 oz Cool Whip, thawed (OR 1 recipe of homemade whipped cream)
1 1/4 cups Oreo crumbs (from about 16 Oreos)
7-10 Oreos, chopped, optional
1 20 oz bottle chocolate sundae syrup
additional Oreos and whipped cream for the top, optional
An 8-inch springform pan is best for this recipe so that you can easily remove the cake once it's been assembled. If you do not have a springform pan, line your pan with clear wrap before adding your parchment paper and cake board. You can use the clear warp to lift your cake out of the pan once it's assembled and frozen.
Procedure:
Brownies:
1. Make brownie dough according to instructions on back of box.
2. Grease two 8-inch pans and line the bottoms with parchment paper to allow for easy removal. Bake at temperature on box, reducing baking time to about 20 minutes.
3. When brownies are done baking, allow to completely cool.
Ice Cream:
1. Combine cream cheese, sugar, milk and vanilla together in the bowl of a stand mixer, or with a hand mixer. Mix until completely combined.
2. Fold in the cool whip, Oreo crumbs and chopped Oreos.

Assembling it all:
1. Line the sides of an 8-inch springform pan with parchment paper. The parchment paper should stick up above the top edge of the pan, since the cake will probably be a little taller than your pan. If you want, put a cardboard cake circle in the bottom of the pan.
You should be using the same 8-inch pan you used for the brownies. Not all 8-inch pans are exactly the same size. Your brownie needs to fit in this pan.
2. Put the first brownie layer in the bottom of your pan.
3. Top with half of the Oreo ice cream.
4. Spread 1 cup of chocolate sauce over the ice cream and spread evenly.
5. Add second brownie to the pan.
6. Top with remaining Oreo ice cream.
7. Top with additional chopped Oreos, whipped cream and chocolate sauce, if desired.
8. Allow ice cream cake to freeze completely, 6-8 hours.
9. When frozen, remove from springform pan and remove parchment paper from sides.
10. Top with additional caramel sauce and chocolate sauce, allowing it to drizzle down the sides.
11. Cover with remaining chopped snickers and a little more caramel and chocolate sauce.