No Bake Nutella Oreo Cheesecake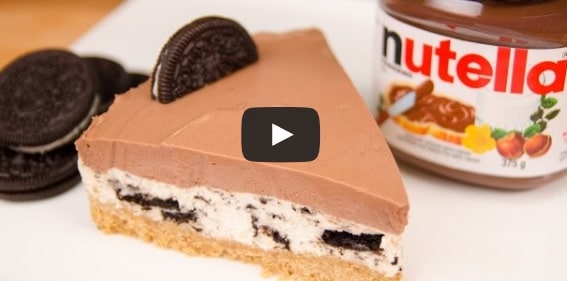 This is one of the most delicious, amazing, drool-worthy cheesecakes I have ever eaten, never-mind made.
Being that the cheesecake is a no-bake recipe, the layers remain light and fluffy once they are set.
I also tried a baked version of this recipe, and I felt that this one was far better. I definitely prefer a light cheesecake over a heavy, dense one.
Nutella Oreo Cheesecake Recipe
• 1 1/2 cups graham cracker crumbs (180g)
• 1/3 cup packed brown sugar (60g)
• 1/2 teaspoon ground cinnamon
• 1/3 cup butter, melted (80g)
• 2 (8 ounce) packages cream cheese (16oz)
• 2 teaspoons lemon juice (10mL)
• 2 cups heavy whipping cream (500mL)
• 1/3 cup white sugar (65mL)
• 12 Oreos (chopped into small pieces)
• 1 cup Nutella
Procedure:
1. In a small bowl, stir together the graham cracker crumbs, brown sugar and cinnamon.
2. Add melted butter and mix well.
3. Press into the bottom of a cheesecake pan, or a spring-form pan.
4. Chill until firm.
5. In the bowl of a stand mixer, fitted with the whisk attachment, beat together the cream cheese and lemon juice until soft.
6. Add whipping cream and continue to beat until batter becomes thick.
7. Add the sugar and continue to beat until stiff.
8. Divide batter into two equal portions, in two separate bowls. In one bowl add chopped Oreos and mix until combined.
9. Place the Oreo mixture over top of the chilled crust, and smooth with an offset spatula. Chill until slightly firm.
10. Add the Nutella to the second portion of cheesecake batter, and once the Oreo portion is chilled, spread the Nutella portion on top, using an offset spatula.
11. Chill several hours or overnight, until cheesecake is firm.
12. This is best if eaten with 2-3 days.