Marshmallow Fondant Recipe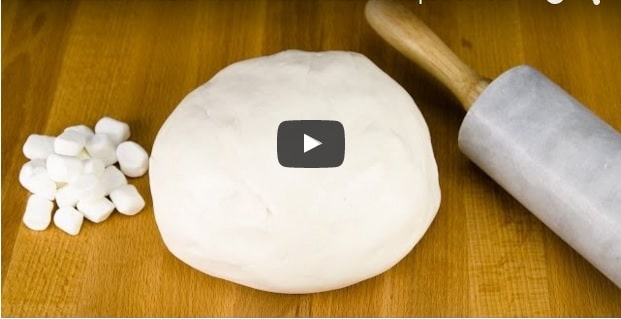 Marshmallow Fondant Recipe. How to Make Fondant: Marshmallow Fondant Recipe – Learn how to make marshmallow fondant!
Ingredients:
• 450 grams mini marshmallows
• 1 kilogram icing sugar (confectioners sugar)
• 1-2 teaspoon vanilla extract
• 2-5 tablespoons water
• *vegetable shortening for greasing tools and work surface
Procedure:
Place marshmallows in a microwave safe bowl and add 2 tablespoons of water.
Melt in the microwave in 30 second intervals, until marshmallows are melted (around 2- 2.5 minutes).
Add vanilla extract and stir. Grease inside of bowl and dough hook attachment of stand mixer.
**If you do not have a stand mixer, you can do this by kneading the mixture by hand on a greased work surface.
** Pour the marshmallows into the bowl, and add half of the icing sugar.
Mix until mostly combined.
Add 2 more tablespoons of water, and the remaining icing sugar.
Mix on low until fondant is smooth. If the fondant is too dry, add more water one tablespoon at a time as needed.
Remove from bowl and place on a greased work surface, knead into a bowl.
Wrap in plastic covering and fondant can be stored in the fridge, or at room temperature.
If placed into the fridge, it will be cold and may need to be microwaved for 10-15 seconds to make it pliable.