Lemon Chiffon Cake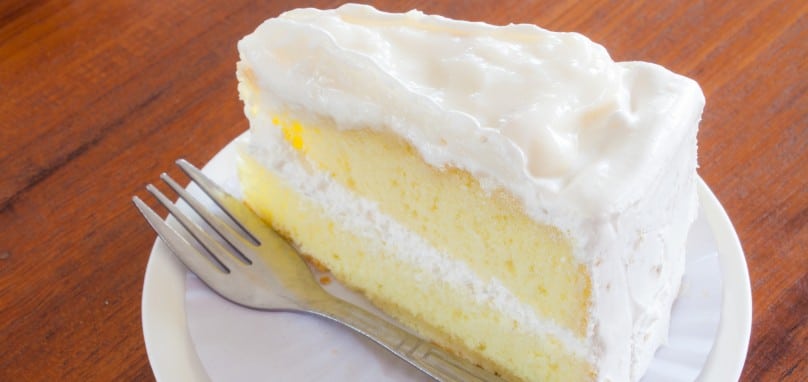 Lemony, light and luscious, this cake is a crowd pleaser. Filled with lemon cream, it packs a citrus punch.
Lemon Chiffon Cake Recipe
Ingredients
1 3/4 cups cake flour
1 tablespoon baking powder
1 teaspoon salt
1/2 cup white sugar
1/2 cup vegetable oil
6 egg yolks
3/4 cup water
1 tablespoon lemon zest
6 egg whites
1/2 teaspoon cream of tartar
3/4 cup white sugar
1 cup heavy whipping cream
2 1/2 cups lemon pie filling
8 slices lemon
Instructions
1 Preheat oven to 350 degrees F (175 degrees C).
2 In a large bowl, combine flour, baking powder, salt, and 1/2 cup sugar. Add oil, egg yolks, water and lemon rind. Beat with an electric mixer until smooth.
3 In a small bowl, beat egg whites and cream of tartar until peaks form. Gradually add 3/4 cup sugar, and beat until very stiff and shiny peaks form. Fold 1/3 of the whites into the batter, then quickly fold in remaining whites until no streaks remain. Turn batter into ungreased 10 inch tube pan.
4 Bake at 350 degrees F (175 degrees C) for 60 minutes or until a toothpick inserted in the center comes out clean. Invert cake and cool completely in pan. When cool, loosen edges and shake pan to remove cake.
5 To Make Filling: Beat cream to stiff peaks. Fold in lemon filling. Chill until stiff.
6 To Assemble Cake: Slice cake horizontally into 3 equal layers. Fill layers with 1/3 cup of filling. Spread remaining filling on top layer. Decorate with lemon slices.