How to Make Strawberry Cake From Scratch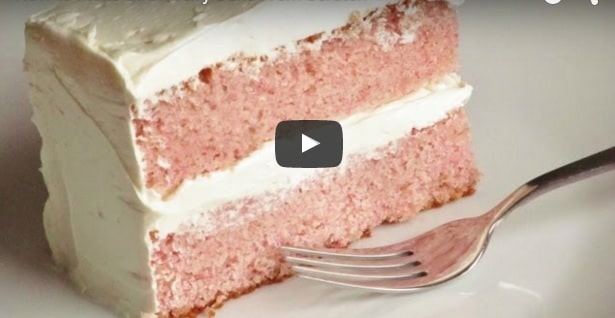 How to Make Strawberry Cake From Scratch. This cake is delicious and tastes just like a freshly baked strawberry pie!
Pairs really well with cream cheese icing or strawberry buttercream!
Ingredients
(given by weight and by volume… weight is my preferred method of measurement)
7 ounces All Purpose Flour (1 ¼ + 2 TBSP sifted)
2 ounces Potato Starch (about ¼ cup + 2 TBSP- found in the baking aisle or near the natural foods)
1 ½ TSP Baking Powder
1 TSP Salt
1/8 TSP Baking Soda
1 cup Strawberry Puree (fresh or frozen)
1 TBSP Pure Vanilla Extract
1 TSP Natural Strawberry Extract (optional, but recommended- I use Silver Cloud Estates Brand)
6 ounces Unsalted Butter – softened (1 ½ sticks)
12 ounces Extra-Fine Granulated Sugar (1 ½ cups + 3 TBSP- you can zap regular granulated sugar in the food processor to make extra-fine)
4 large eggs
*this cake bakes up a light brownish pink- if you want a really pink strawberry cake, you can add a couple of drops of red or pink food coloring.
Directions
Preheat oven to 350 degrees. Prepare your pans- grease the bottom only, line with parchment paper and lightly grease the parchment (if making cupcakes line your pans with cupcake liners).
In a large bowl cream together butter and sugar on low speed until light in color and fluffy (about 5 minutes).
Into a separate bowl sift your flour (if measuring by volume, sift directly into the measuring cup). Add remaining dry ingredients (potato starch, baking powder, salt and baking soda) and whisk to combine well and set aside.
To your 1 cup of strawberry puree, add your extracts (and optional food color) and stir well to combine, set aside.
With your mixer running on low, add your eggs 1 at a time, wait until each is well incorporated before adding another. When all eggs are added, scrape the sides of the bowl. Then mix another few seconds until smooth.
With your mixer on low alternate adding the dry ingredients (1/3 at a time) and strawberry puree (1/2 at a time), beginning and ending with the dry ingredients. Do not wait for each addition to fully incorporate before adding the next (this step should take less than 1 minute to complete).
When all ingredients are added scrape your bowl and paddle(s) well. Then mix on high for another 15-20 seconds to thoroughly mix and add structure to the batter. Do not over mix, or your cake will be tough!
Pour batter into prepared pans to about ½ to ¾ full and spread evenly. Bake at 350 degrees for about 25-30 minutes, until a toothpick comes out clean.
Let cool in pans for about 10 minutes, then use a knife to loosen the edges and turn out onto a parchment paper lined cooling rack. Cool completely before frosting!