How to make Modelling Chocolate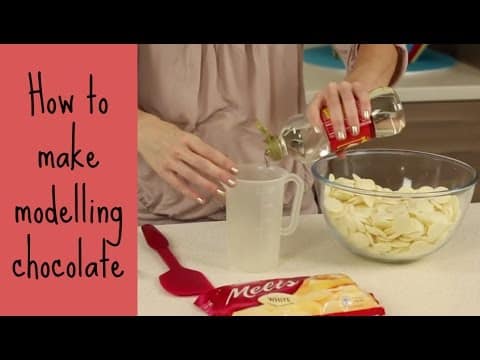 A quick lesson on how to make modelling chocolate. Vanessa shares with you how to make it, and color it.
So fast and easy, and the cakes you can do with it are amazing.
Ingredients
1.2 kgs White Chocolate
1 Cup Light Corn Syrup
Instructions
Using a microwave safe bowl, melt the chocolate in the microwave in 30 second increments on 50% power until just melted. Do not overheat; stir in between heating to avoid seizing the chocolate.
Heat the corn syrup in a small microwave safe bowl, in the microwave for 20 seconds on 20% power. Test to see if the corn syrup temperature is similar to the chocolate temperature. If not, continue to heat in 10 second increments on 20%.
Slowly pour the corn syrup into the chocolate and stir to mix.
Pour the mixture onto a sheet of parchment/ baking paper and allow it to rest for one hour. Knead the mixture evenly to avoid getting lumps of corn syrup. Try to knead for less than one minute to avoid adding heat to the modelling chocolate.
Wrap the modeling chocolate in cling wrap. Allow to rest for 2 hours. If you need to use immediately, modelling chocolate can be refrigerated for small blocks of time.