Hello Kitty Cookie Recipe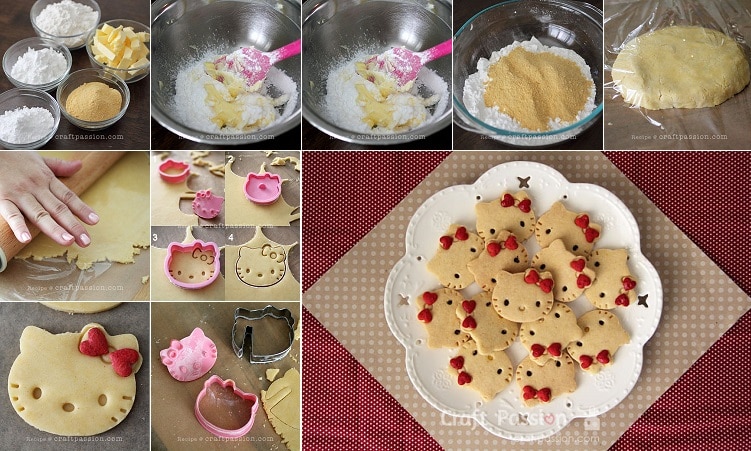 If you want to surprise your kids with a cute desert, try these next Hello Kitty cookies. Hello Kitty is a phenomenon that spread all over the world within a short period and is very popular among kids and not only.
These cookies look so sweet and they taste that way too, so your kids can take them to lunch at school or eat them with a nice cup of cocoa. Making them is really easy, as you only need a Hello Kitty shaped cookie cutter and after that the decorations is a piece of cake.
These cookies are also a nice idea for a birthday or pajama party as little girls will simply adore them. If you want to place the cookie on the side of the cup, as shown in the picture, use a special cookie cutter or a knife to cut out that part.
Your children will surely like to receive a piece of Hello Kitty cookie every morning.
Hello Kitty Recipe
Ingredients
125g Butter (room temperature)
50g Icing sugar
125g Plain / All-purpose flour
75g Potato starch
50g milled cereal – we used cornflakes
Heart shaped decoration sugar (large)
Round shaped decoration sugar (small)
Method
Preheat oven to 130-140 degree C. Line a baking sheet with parchment paper.
Combine Butter and icing sugar in a large bowl, mix well.
Add in sieved plain flour, potato starch and milled cereal. Mix again.
Pour onto tabletop, knead with your palms to form a dough.
Roll out the dough to ¼" thick, use Hello Kitty shape cookie cutters to make cut outs. Arrange the cut outs on the lined baking sheet, 1" apart.
Place the large heart shape decoration sugar on as the ribbon and some round decoration sugar as the eyes and nose.
Bake in the preheated oven for 30-35 minutes till cooked through. Cool on a wire racks. Store in airtight container when cooled completely.
Click here for the full tutorial.