German Chocolate Cake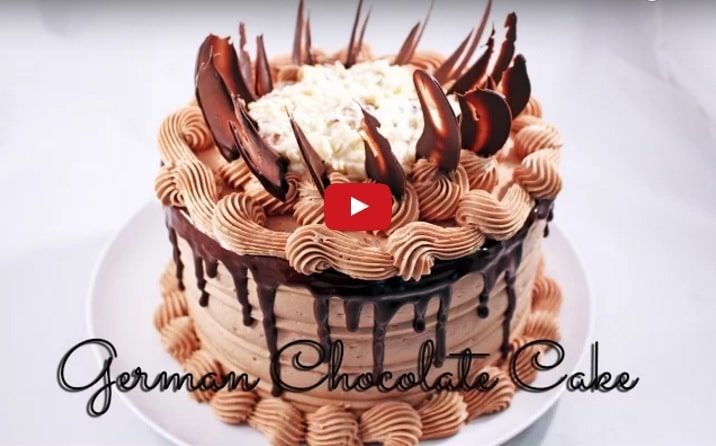 Did you know that the German Chocolate Cake is not really from Germany? After all, coconuts are not really native to Germany so it does seem odd that this cake is named as such. This classic cake has some history but not what you may think.
This is a Building on Recipes project so be sure to have your chocolate cake & buttercream recipes prepared ahead of time then proceed with the German chocolate filling recipe listed below
It is fine to leave the yolks out of the recipe if you are concerned about using egg yolks in your desserts however they do help to thicken the mixture
Rest assure that by cooking the mixture to 170°F you are now in thesafe zone for egg custards
German Chocolate Cake Recipe
https://youtu.be/fWC23cv8H0Y
Author: Gretchen's Bakery
Yield: 3 cups
Ingredients
Sweetened Condensed Milk ¾ cup (234g)
Salt ½ teaspoon (3g)
Unsalted Butter 8 tablespoons (113g)
Egg Yolks 2 (36g)
White Chocolate 4ounces (¾cup) (113g)
Sweetened Flake Coconut 1½ cup (135g)
Lightly Toasted Pecan Pieces 1 cup (110g)
1 Recipe Chocolate Cake baked into 3- 7″ layers
1 Recipe Swiss Buttercream ~ chocolate variation
½ Recipe Ganache
Instructions
In a medium heavy bottom sauce pot combine the condensed milk, salt and butter together.
Stirring constantly over medium – high heat until butter is melted.
Add the egg yolks and melted white chocolate and continue stirring constantly to avoid burning the mixture (sweetened condensed milk burns very easily)
Cook until the mixture reaches 170°F on an instant read thermometer and then add the toasted pecans, coconut and vanilla extract.
Cool completely before using, or refrigerate until needed up to 1 week
If you are adding the buttercream (or caramel sauce) to the filling wait until it is completely cooled
Begin by adding 1 cup of buttercream to the German Chocolate filling then add ¾ cup cooled ganache to the remaining buttercream
Assemble the cake as shown in the video.
Notes: Keep the filling and any cakes or pastries made with this filling in the refrigerator for up to 1 week. German chocolate filling must stay refrigerated due to the egg yolks in the recipe. The cake or pastries made with German Chocolate filling can stay at room temperature for up to 4 hours.