Easy 3-Ingredient Oreo Ice Cream Cake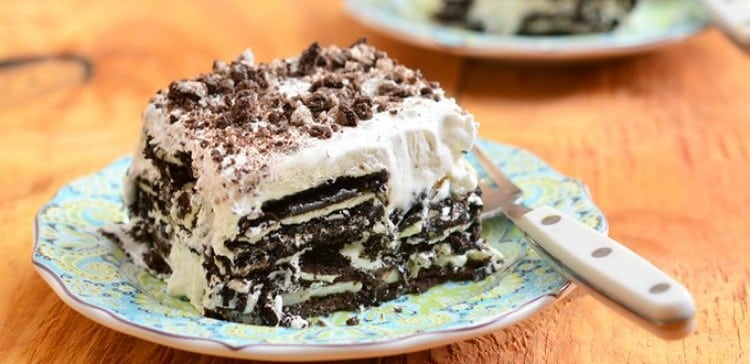 Even though this recipe doesn't technically involve any ice cream or any cake, there's nothing else you can call it but an ice cream cake – and a delicious one at that.
With alternating layers of Oreos and Cool Whip, this delightful dessert is light, fluffy and decadent all at once. Any time you're looking for a cool dessert that's easy to whip up.
How to make 3 ingredient Oreo dessert recipe
What You'll Need:
1 regular package of Oreos
1 cup of Milk
16 ounces of Cool Whip
What You Do:
Pour milk into a medium bowl. Dip Oreos in milk for 5-10 second until just softened.
Arrange Oreos in a single layer in an 8×8 baking dish. Then, spoon a layer of Cool Whip over they layer of cookies. Repeat this layering process until Cool Whip is gone, ending with a layer of Cool Whip on top.
Crush any remaining Oreos and sprinkle them over the top layer of Cool Whip.
Cover baking dish with plastic wrap, then freezer for 4-5 hours, until firm.
When ready to serve, thaw for a couple of minutes, then cut cake into squares. Enjoy!