DIY Mint Chocolate Chip Cheesecake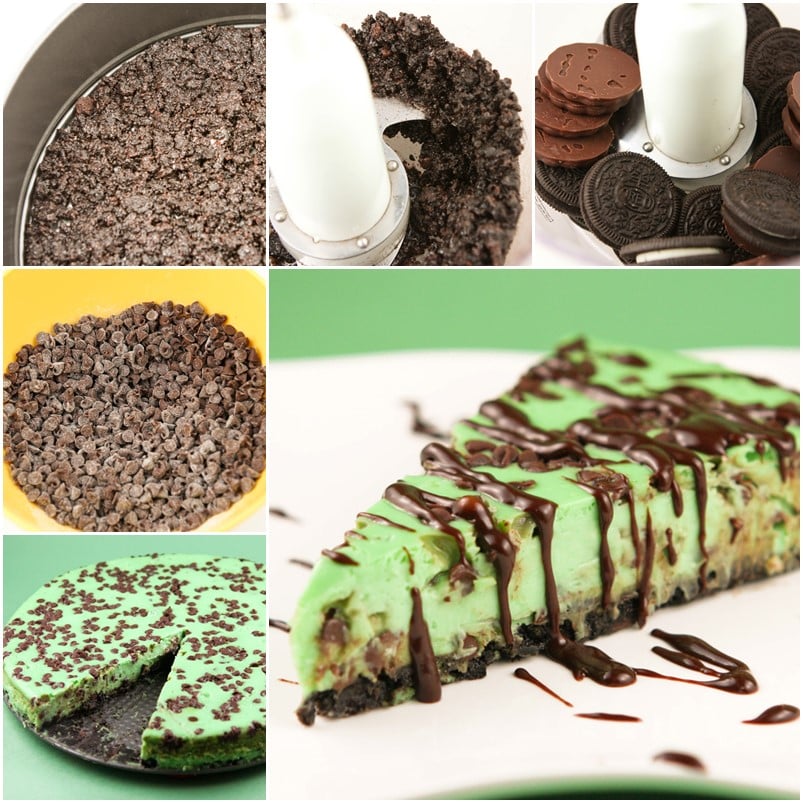 Like popular mint chocolate chip ice cream, this creamy, mint cheesecake is studded with miniature semi-sweet chocolate morsels.
You won't be able to stop at one slice of this Mint Chocolate Chip Cheesecake! Do you want to try it?
Chocolate Mint Cheesecake
What you will need
15 Oreo cookies
10 Keebler Grasshoper fudge mint cookies
5 tablespoons of melted butter
3 (8-ounce) packages of softened cream cheese
a 14-ounce can of sweetened condensed milk
3 eggs
1 tablespoon Crème de Menthe
1 teaspoon peppermint extract
1/2 teaspoon green food coloring
2 cup miniature semi-sweet chocolate chips
1 teaspoon flour
1 tablespoon milk
9 inch pan
hand-held mixer
food processor
Instructions
Preheat oven to 3 degrees F .
Put cookies and mint cookies into food processor, pulse until fine crumbs form. Add 5 tablespoons of melted butter and pulse until the crumbs become moistened.
Press crumb mixture into bottom of a 9-inch springform pan.
Place softened cream cheese into a large bowl. Using mixer, beat until the cream cheese is light and fluffy. Then add condensed milk, eggs, Crème de Menthe, peppermint and food coloring, and mix well.
Mix 1 cup miniature semi-sweet chocolate chips and 1 teaspoon flour, then stir the chocolate chips into to the cream cheese mixture.
Pour the mixture into the prepared springform pan.
Top with 1/2 cup miniature chocolate chips.
Bake in the preheated oven for 1 hour.
In a small bowl, mix 1/2 cup chocolate chips and 1 tablespoon milk. Heat in the microwave for 30 seconds and stir until creamy.
Drizzle the melted chocolate over each slice before serving.
More detail here