Delicious Carrot Cake Recipe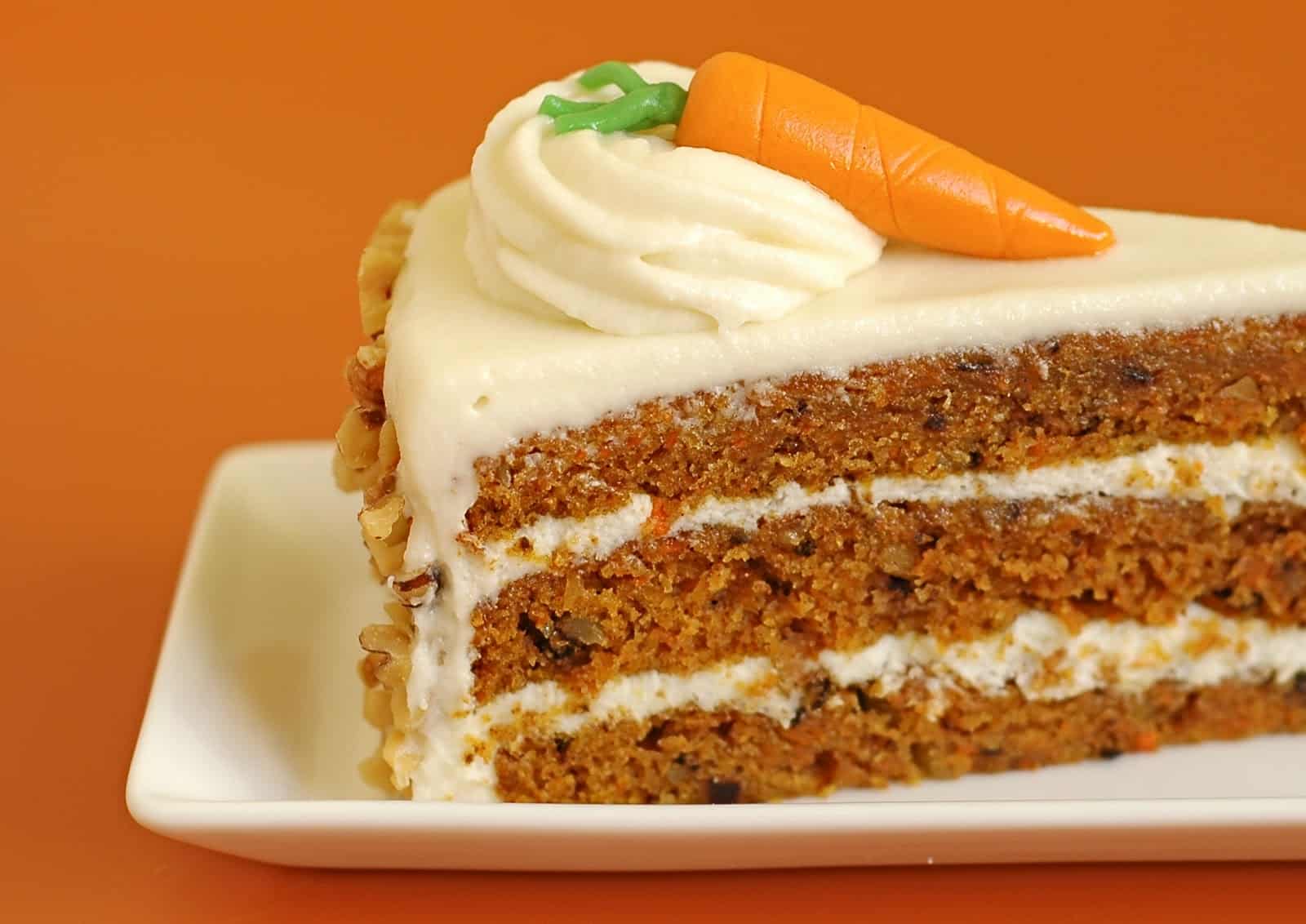 Carrot cakes are moist, dense cakes made with grated carrot. Carrots have long been used to sweeten foods when other sweeteners were scarce. They are most frequently frosted with cream cheese frosting and often decorated with frosting carrots.
Some carrot cakes also have optional ingredients added, such as pineapple, coconut, raisins, or nuts. Unlike most cakes, carrot cakes are made more like sweet bread. Carrot cakes have become so popular in recent years, although they have been made in one form or another since medieval times.
It seems this cake is something you either love or hate. Most people seem to take offense at the optional ingredients more than the cake itself.
If you find you have picky eaters at your table, try making a plain carrot cake without nuts or any other added ingredients. You will most likely find that suddenly your picky eater will dig in with gusto.
If you like the nuts and such, you can always add them to the frosting at the end when you are serving. This way everyone can enjoy the cake with all the trimmings that they like.
Carrot Cake Ideas
Recipe for Carrot Cake
This moist, delicious cake is perfect for a spring gathering.
What You Need
3 cups all purpose flour
2-3/4 cups granulated sugar
1 Tablespoon baking soda
2 teaspoons ground cinnamon
2 teaspoons kosher salt
4 eggs, beaten
1-1/2 cups vegetable oil
2 teaspoons pure vanilla extract
1-1/2 cups carrot, finely grated
2 jars carrot puree (4 oz each) from the baby food aisle
Frosting
3-1/2 cups powdered sugar
12 ounces cream cheese, room temperature
1 stick of unsalted butter, room temperature
2 teaspoons pure vanilla extract
1/4 teaspoon salt
How to Make Carrot Cake
Preheat oven to 350 degrees Fahrenheit. Position rack in the center of the oven. Spray two 9 inch round cake pans with cooking spray.
Whisk the flour, granulated sugar, cinnamon, salt, and baking soda together in a mixing bowl. Using a separate bowl, whisk eggs, oil, and vanilla together. Add to the dry ingredients. Beat on low for a minute. Add in the grated carrots and carrot puree. Stir until just mixed.
Pour the batter into the oiled cake pans. Bake about 40 to 45 minutes, or until a knife inserted into the center of each cake comes out clean. When done, move the pans to a wire rack and let them cool completely.
For the frosting, sift the powdered sugar into a medium bowl and set it aside. In another bowl , mix the cream cheese, vanilla, butter, and salt together, scraping the mixture off the sides of the bowl. Mix until smooth. Add the powdered sugar a little bit at a time, beating until the frosting is light and fluffy.
Place one layer on a platter. Use one third of the frosting on the top. Place the second layer on top, flat side up. Spread another third of the icing over the top and the final third around the sides. Decorate if you wish.