Chocolate Pancake Cake Recipe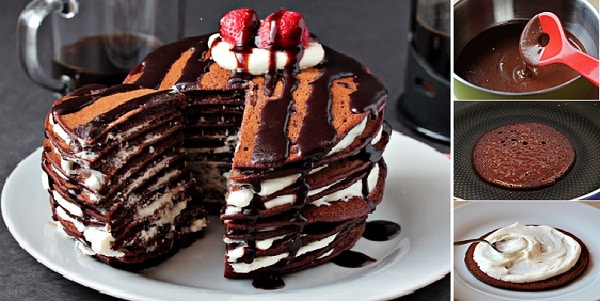 Seeing chocolate drip slowly will instantly make your mouth drool. Add whipped cream, a couple of strawberries and you almost got a perfect dessert.
If you are dying to have such a treat, but aren't exactly sure about the baking process or the spare time for it, try the pancake cake version.
How to make Chocolate Pancakes
The solution for a quick and delicious chocolate cake is using chocolate pancake as batter. The result is impressive, both in time of preparation and also in taste.
Placed on top of each other, the pancakes could go as high as you want (or can).
It would be a lie to tell you it's a healthy snack, but we can say with complete confidence it will transform you into the dessert wizard of any party.
Not to mention it could be an easy way to surprise your loved one in a near future celebration of romance (Valentine's Day sound familiar?). Either way, making a chocolate pancake cake will bring you much joy.