Chocolate Dipped Strawberry Cake Recipe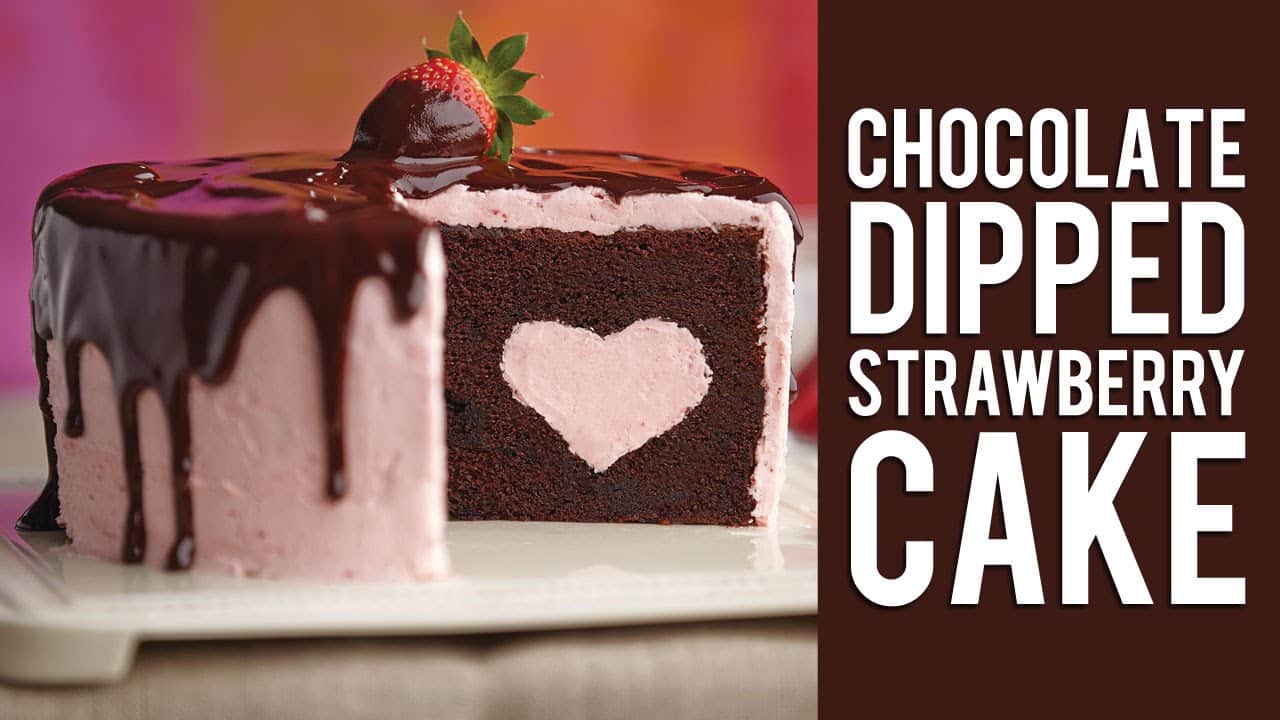 Learn how to make a hidden surprise cake with a heart-shaped design on the inside with decadent ganache topping on the outside.
This Chocolate Strawberry Cake recipe is tempting enough, add a hidden design that served up in every slice, and your guests will be raving about this sweet cake long after they take their first bite. Tips, tools and ingredients listed below.
How To Make A Hidden Surprise Heart Cake
Instructions:
step 1: Preheat oven to 350°F. Prepare Tasty Fill Heart Shaped Pan with vegetable pan spray.
step 2: In large bowl, combine cake mix, sour cream, oil, eggs, water and instant coffee. Beat on low 30 seconds. Scrape bowl and continue beating on medium speed for 2 minutes. Divide batter evenly between two pans.
step 3: Bake 35-40 minutes or until toothpick inserted in center comes out clean. Cool in pan 10 minutes. Remove from pan and cool completely.
step 4: In small saucepan over medium-low heat, mash strawberries with water and salt. Cook, stirring frequently, until reduced to about 1/4 cup of liquid. Cool completely.
step 5: In large bowl, beat butter and shortening in large bowl with electric mixer until smooth. Add vanilla. Gradually add sugar, one cup at a time, beating well on medium speed. Scrape sides and bottom of bowl often. Add strawberries and beat until light and fluffy. Spoon 1/2 the mixture into cavities of cooled cakes. Assemble cake by inverting top layer onto bottom layer. Spatula ice outside of cake with remaining icing. Chill cake until icing is firm, at least 30 minutes.
step 6: In small saucepan, warm cream until it begins to steam; do not boil. Remove from heat and stir in chopped chocolate. Continue stirring until chocolate is smooth and glossy. Cool slightly.
step 7: Remove cake from refrigerator and pour chocolate over top of cake, pushing slightly over the edges with spatula. Dip strawberries in remaining chocolate and place on top of cake if desired. Refrigerate until ready to serve.