Chocolate Candy Box Cake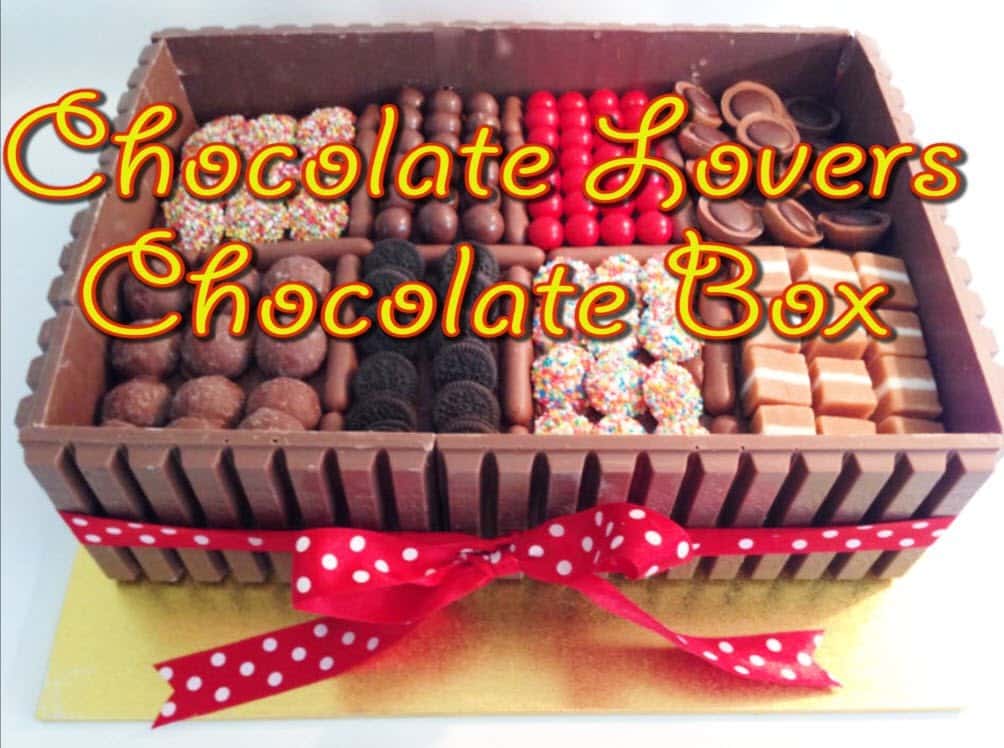 This cake is for chocolate lovers only. In fact, you should probably be obsessed with chocolate in order to make this cake since every component has chocolate; from the chocolate cake with chocolate buttercream base, to the swirled chocolate wafer sticks wrapped around it, to the chocolate candy chunks on top!
Making this cake is more of an exercise in self control, rather than decorating challenge. It's "Super Easy" on a scale of "Easy to Difficult". The self control comes in when you try to refrain from sampling all of the toppings prior to putting them on the cake!
Tutorial on How to make a Chocolate Box Cake
Ingredients:
◾2 prepared 9″ x 13″ chocolate cakes, stacked and buttercream covered
◾Round wafer sticks (such as Stikko) I used three containers. (Get them here)
◾Bite sized Twix, Snickers, Rolo
◾Hershey's Drops- Cookies N Cream
◾Lindt Lindor truffles
◾Mini chocolate chip cookies
◾Hershey's Hugs
◾Cadbury Marvellous Creations Jelly Popping Candy (Get it Here)
Procedure:

1.Trim wafer sticks to about 1/2″ longer than the height of the cake, and place the trimmer wafers around the outside of the cake. Secure with buttercream if required.
2.Divide top of cake into eight equal sections, and fill each section with one kind of chocolate candy.
3.Serve when ready.
4.You can keep this cake in the fridge for 2-3 days.