Cannoli Cake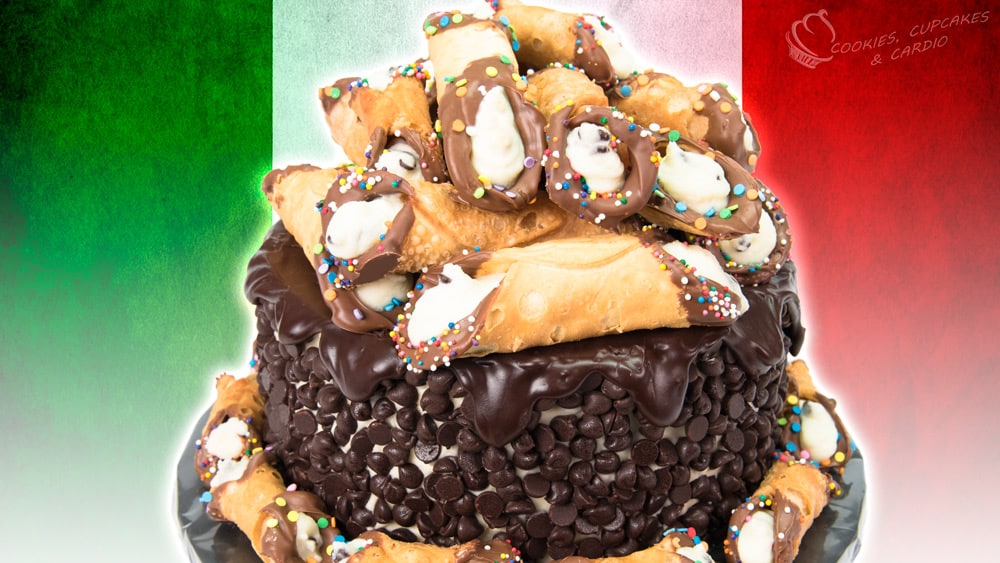 Not only is this Cannoli Cake amazing to eat, it is amazing to look at! It's a work of art, and a game of Jenga. Be careful when you try to cut the cake, as the whole thing might come crashing down onto your plate . . . which wouldn't really be a bad thing, now would it?
This cake has four chocolate cake layers, all stacked with cannoli filling in between. This video show you how to combine the cannoli with chocolate cake, cannoli filling and buttercream to turn it into a Cannoli Cake! This cannoli cake is amazing.
How to Make Cannoli Cake
Ingredients:
– Chocolate Cake (8″, two layers)
– Vanilla buttercream
– Cannoli filling
– Chocolate ganache
– Chocolate Chips
– Cannolis (regular and mini)
Procedure:
1. Level and slice 8″ cakes in half, which will create four equal layers.
2. Attach the first layer of cake to a cake board, securing with a swipe of buttercream.
3. Using the vanilla buttercream, pipe a 1/2″ of buttercream along the outer edge of the cake to prevent the cake filling from spilling out once the layers are stacked.
4. Scoop 1/2 cup of filling into the dammed area and spread flat with an offset spatula.
5. Place the next layer of cake on top and repeat buttercream dam and filling. Place third layer on top, and repeat. Finish by stacking the fourth and final layer.
6. Cover cake with vanilla buttercream and place into the freezer to set the filling (if desired).
7. Press chocolate chips onto the side of the cake, covering the sides from top to bottom.
8. Spread ganache on top of the cake, gently dripping it down the sides of the cake.
9. Fill cannolis with extra cannoli filling and stack on top of cake. Place mini cannolis around the outer border of the cake.
10. Serve immediately so that the cannoli's stay crunchy.
11. Serve each slice of cake with a cannoli.
12. Cake can be kept in the fridge for 2-3 days.