Cake Decorating With Piping Bag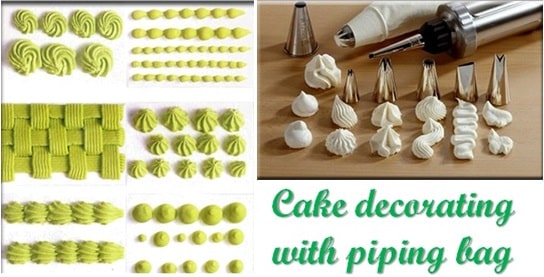 Kitchen utensils are very important to make good pastry and make pretty cakes we must have bushes assortment of pastry pockets and cream for tips.
With 6 different bushes, fantasy and decorating ideas will have no limits. Discover the most bushes for pastries with examples and decorating ideas with the pastry bag.
The best known bushes are Wilton which are used by the professional trade.
How to use a piping bag ?
The piping bag is an easy technique to give your cake a sophisticated look. There are many types of bushes tip according to the table of Wilton.
Technique of piping bag
Using piping bag is not as complicated as it, you just need to know the exact technique of handling and with practice you will become professional. There are disposable piping bag or not up to you to choose what suits you. Here is the method of using the pastry bag step by step :
• Fill a piping bag about two-thirds.
• Fold the corners, and roll the bag down to the frosting.
• With one hand, grab the bag near the roller above the frosting.
• Apply pressure with the palm of your hand, forcing the frosting towards the tip.
• Use your other hand to guide the tip of the bag.
Good to know
The simple motifs are positioned forward. The sets with whipped butter or margarine cream will be easier because of the mass will maintain. for the beginners, medium length lines will be easier to achieve that long or keys.