Butterfly Cake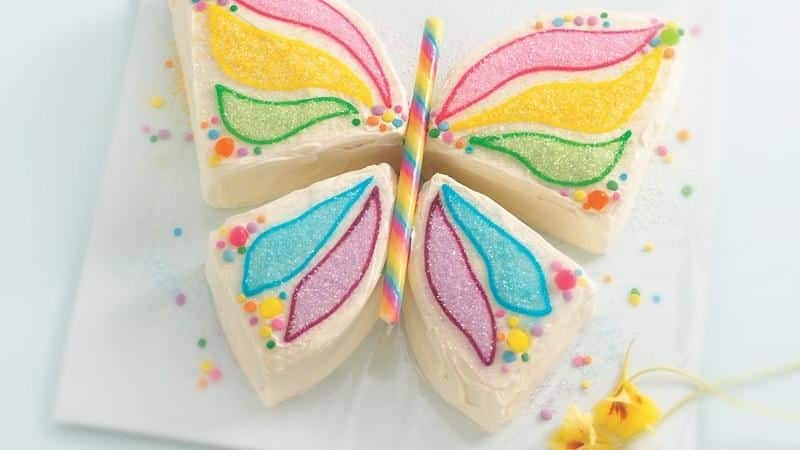 These beautiful creatures are favorites of almost every specially little girls are very fond of butterflies. SO no wonder if your little one demands for a butterfly cake on their birthday. You can actually bake some very fantastic butterfly birthday cakes by using the ideas and designs shown here.
Make this pretty butterfly cake to celebrate spring, summer, a birthday or any day!
Ingredients
Cake
1 box Betty Crocker™ SuperMoist™ yellow cake mix
Water, vegetable oil and eggs called for on cake mix box
Tray or cardboard (10x10 inches), covered with wrapping paper and plastic food wrap or foil
Frosting and Decorations
1 container Betty Crocker™ Rich & Creamy vanilla frosting
1 candy stick (8 to 10 inches long)
Betty Crocker™ gel food colors (in desired colors)
Betty Crocker™ decorating gel (from 0.68-oz tube) in any color
Betty Crocker™ colored sugars
8 jelly beans or candy coated almonds
Small round candy decorations
CHECK THE VIDEO
https://youtu.be/24fPVtIs2M4
Directions
1 Heat oven to 350°F (325°F for dark or nonstick pans). Grease or spray bottoms and sides of two 8- or 9-inch round pans. Make, bake and cool cake as directed on box for 8- or 9-inch rounds. Wrap and freeze 1 layer for later use. Freeze remaining layer 45 minutes before cutting to reduce crumbs.
2 Cut off rounded top of cake to make flat surface; place cake cut side down. Cut cake in half crosswise; cut each half into 1/3 and 2/3 pieces (as shown in diagram). Place cake pieces on platter to form butterfly. Gently separate cake pieces to form wings.
3 Reserve 1/2 cup frosting; set aside. Spread top and sides of cake with thin layer of frosting to seal in crumbs. Refrigerate or freeze 30 to 60 minutes to set frosting. Frost cake with remaining frosting. Place candy stick between cake pieces for butterfly body.
4 Stir food color into reserved frosting until well blended. Spread over cake in desired pattern on wings. Outline wing patterns with gel. Sprinkle with sugar crystals. Place jelly beans on corners of wings. Decorate butterfly with candy decorations. Store loosely covered.