Blossom Fondant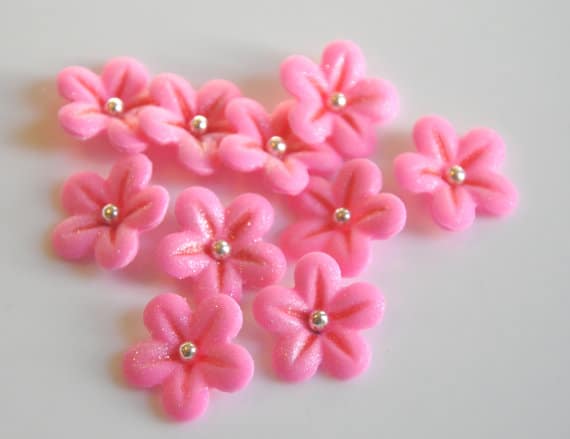 This is my fondant recipe I use to decorate the cookies for my floral cookie bouquets. It provides a beautiful porcelian-smooth finish similar to regular fondant but tastes WONDERFUL because it is filled with white chocolate and ready-made frosting…
(This fondant is ideal for decorating cookies but not for covering cakes)
Ingredients
1- 14 oz. bag white candy coating wafers
1/2 cup vanilla flavored ready-made storebouqht frosting ( please do not substitute the whipped frosting varieties)
1-1/2 Tablespoons light corn syrup
1/2 teaspoon butter flavoring
1 T cornstarch
Instructions
Empty 1 – 14 oz. bag of white candy coating wafers into a bowl that will fit on the top of a pan that contains hot, but not boiling water. Stir occasionally until the wafers have completely melted.
Meanwhile, into a mixing bowl place the vanilla ready-made frosting, corn syrup and butter flavoring. Stir this very well.
Sprinkle 1 T of corn starch on your counter (do not substitute powdered sugar) then add the melted wafers to the frosting mixture and mix thoroughly. It will start to become rather thick then immediately turn the mixture out onto the cornstarch dusted surface. Knead the mixture for 10 minutes.
I know 10 minutes sounds like a long time! But kneading it for 10 minutes will reduce the possibility of any lumps from forming and will save you from having to knead it for a much longer period of time later on – trying to remove the lumps that will have formed from not being kneaded long enough initially.
If your hands become sticky while kneading the fondant, rinse your hands under water, dry them off and then continue kneading the fondant. (A bench scraper or pastry cutter will come in very handy when kneading and moving the fondant around…)
Then place the kneaded fondant into a sealed container (such as a plastic bag) and let it completely firm up. If you are in a hurry, you may place it into the refrigerator to speed up the process.
When the entire amount of fondant has become firm, remove the fondant from the container, breaks off small chunks and knead it again. (The hard fondant will soon soften from the warmth of your hands)
It is now ready to be tinted and used. Store in a clean sealed container.
For creamy smooth fondant results:
1. Keep the melted white chocolate warm over the hot water. Do not let the melted chocolate sit on the counter until you are ready to use it…
2. Stir the white chocolate thoroughly with a dry spoon and make sure it is completely void of lumps…
3. After adding the melted chocolate to the creamed mixture and stirring it, immediately turn it out onto the prepared surface and begin kneading it. Do not scrape any hardened bits of chocolate, that may have formed around the edge of the bowl, into the fondant laying on the prepared surface…
4. Knead the fondant for the full 10 minutes… This will help ensure that your fondant will be smooth and lump-free.