3 Method to Make Royal Icing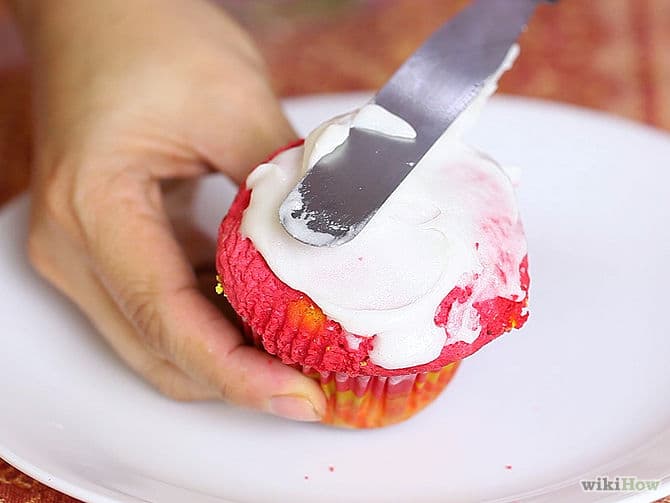 We know that the Royal Icing recipes were very important for the decoration of cakes and we have prepared three differents methods of this recipe in an article. It is important to follow the tips and advices.
Royal icing is a delicious, gluey concoction used to hold gingerbread houses, faerie houses, and other edible crafts projects together. It will dry rock-hard and provide very good adhesion between porous cookie surfaces.
Method 1: Royal Icing with Egg Whites
1. Gather your ingredients. Here's what you'll need to make about four cups of royal icing with egg whites:
3 cups (700 mL) powdered sugar, plus additional as necessary
2 egg whites
1 tsp (5 mL) lemon juice
2. Sift the powdered sugar into a bowl. Sifting is not necessary but will help keep your icing from getting lumpy.
3. Separate the egg whites into a separate bowl. Crack an egg and then turn it crack-side up. As you gently open it, use half of the shell to catch the yolk. Allow white to drain by transferring yolk from one half of the shell to the other several times.
Consider saving the yolk for homemade mayonnaise or Hollandaise sauce.
4. Combine lemon juice and egg whites and mix briefly with a wire whisk. You don't have to whisk much or for long. Whisking for 20 seconds will help break up the egg whites and combine it with the lemon juice.
5. In a stand mixer, combine the lemon juice and egg white mixture with the sugar, adding the sugar a little at a time. Start with 1 1/2 cups or 2 cups of sugar, and gradually add the rest while the mixer is on its medium setting. Mix until shiny and opaque, about 5 minutes.
Hand mixers also do the trick just fine if you do not have a stand mixer. In a pinch, a little bit of old-fashioned hard work will work as well, although you'll be getting a considerable workout.
For edible construction projects like gingerbread houses, a thicker, more peanut-buttery consistency will provide extra stability.
6. For icing to be used as piping, mix the royal icing until soft peaks begin forming. Soft peaks are contoured without being firm; when you dip your whisk into the icing and turn it upside down, the peaks move back in on themselves.
To make your own icing tube, simply put the icing in a Ziploc bag and snip off one of the bottom corners. Start by cutting off very little of the corner to keep your icing lines thinner and more manageable. You can always snip more away as you go.
7. Continue mixing and adding sugar, 2 teaspoons at a time, for firmer peaks. If you want firm peaks for your icing, continue adding sugar a little bit at a time while the mixer is still beating. The additional sugar will create a stiffer icing.
8. Adjust as necessary with sugar, water, or egg whites. You probably have a good idea of how you want your icing to turn out. However, sometimes, things don't happen according to plan. If you need to change the consistency of your icing — it's too stiff, for example — don't fret. Here's how you adjust the consistency of your icing:
If your icing is too runny, add more sugar. A little bit at a time works best.
If your icing is too stiff, add more egg white. Again, a little goes a long way.
If you want to runny icing, add water, a couple drops at a time, to the icing. Whisk the icing and wait for the peaks to break up. Since this process causes air-bubbles to form, rest runny icing for up to 30 minutes before using to allow time for the air bubbles to dissipate.
9. Use royal icing immediately or transfer to an airtight container. Royal icing hardens very quickly if not properly stored.
Method 2: Royal Icing with Meringue Powder
1. Gather your ingredients. Here's what you'll need to make about 5 cups of royal icing with meringue powder:
4 cups (950 mL) confectioners' (powdered or icing) sugar
3 tablespoons (15 mL) meringue powder
1/2 teaspoon (2.5 mL) extract (vanilla, lemon, almond)
1/2 – 3/4 cup (120 – 180 mL) warm water
2. Check the label on your meringue powder. Many meringue powder labels contain specific instructions on how to make royal icing using their product — with powders varying from one product to the next. Adjust the recipe keeping the manufacturer's suggestions on the label in mind.
3. In a stand- or electric mixer, beat the sugar and meringue powder on low until fully combined.
4. Add warm water and beat on medium or high until icing becomes glossy and peaks begin to form. This whole process takes anywhere from 5 to 7 minutes.
5. Adjust with more powdered sugar or water as needed. When using royal icing as the glue with which to bind a gingerbread house, for example, you probably want stiffer peaks. In this case, add more sugar. When flooding a cookie, for example, you probably want a runnier icing. In this case, add more water.
Icing is ready to be used in flooding a cookie when the icing runs off the surface of the beater tong when it's lifted from the mixer.
6. Use royal icing immediately or transfer to an airtight container. Royal icing hardens quickly if not properly stored. Finished.
Method 3: No-Egg Royal Icing
1. Gather the ingredients. You'll need:
1 cup confectioners sugar
2 teaspoons non-dairy milk (rice, soy, almond); or use water
2 teaspoons light corn syrup
1/4 teaspoon vanilla extract
Coloring (if needed) – either paste or powder.
2. Add the confectioners sugar to a medium mixing bowl. Add the non-dairy milk or the water.
3. Stir the ingredients together until a smooth paste forms.
4. Pour in the corn syrup and vanilla extract. The icing will start to look glossy; it is now ready for use.
If it seems too thick, add a little more corn syrup.
5. If adding food coloring, remove even amounts from the bowl. Place the divided pieces in different bowls and add the food coloring according to the packaging instructions.
6. Use the royal icing straight away. If not using it immediately, place under a clean, damp cloth to keep the moisture intact.
Tips
The proportions in this recipe are approximate; you may need to add more powdered sugar if it's too wet or more egg white if it's too dry.
If you're having trouble keeping heavy gingerbread houses together, try letting the icing stand for a few minutes, then stir before using.
Warnings:
You can mix the icing either by hand or by machine, but note the correct consistency is quite stiff and may strain both.
Be prepared for a sticky mess if your bag leaks, or if you get this on your hands.
Raw eggs may contain salmonella if they come from a contaminated fowl or source.
Sources and citations
http://www.thekitchn.com/a-visual-guide-soft-peaks-firm-115557
http://www.joyofbaking.com/RoyalIcing.html
http://www.wikihow.com